Quick Oats (22 Servings)
Whenever you need a convenient boost of energy, there's nothing like a hot bowl of oatmeal to help you power through a tough day, especially in an emergency. Ready Hour by My Patriot Supply Quick Oats are easy to prepare and ideal for baking and dessert recipes, like oatmeal raisin cookies!
Keep a can in your pantry for daily use and store one in your emergency kit to have a hot, nutritious meal option at the ready. Also perfect for backpacking and canoeing adventures to keep you active and alert. Our Quick Oats have a 30-year shelf life unopened and will last a year after opening. Should an emergency strike, having oats as a source of nourishment is a great safety net. This item comes in a big #10 can size, about five times the size of a normal soup can.
The versatility of Quick Oats:
Breakfast staple
In homemade bread
In cakes or other baked goods
Quick Oats Benefits:
Ultimate convenience
Easy to prepare
Excellent nutrition
Ideal for off-grid use
Perfect for baking and desserts
Up to 30-year shelf-life unopened
Up to 1-year shelf-life after opening
#10 can size, about 5x average soup can
Requires no refrigeration
Made in the USA
Directions for Quick Oats:
Discard the oxygen absorber packet immediately after opening.
Boil one cup of water with a pinch of salt.
Add 1/2 cup Ready Hour Quick Oats and Stir.
Cook for 1 minute, stirring frequently.
Remove from heat and allow the oatmeal to sit for 2 minutes.
Add toppings and enjoy!
Ingredients:
Quick rolled oats.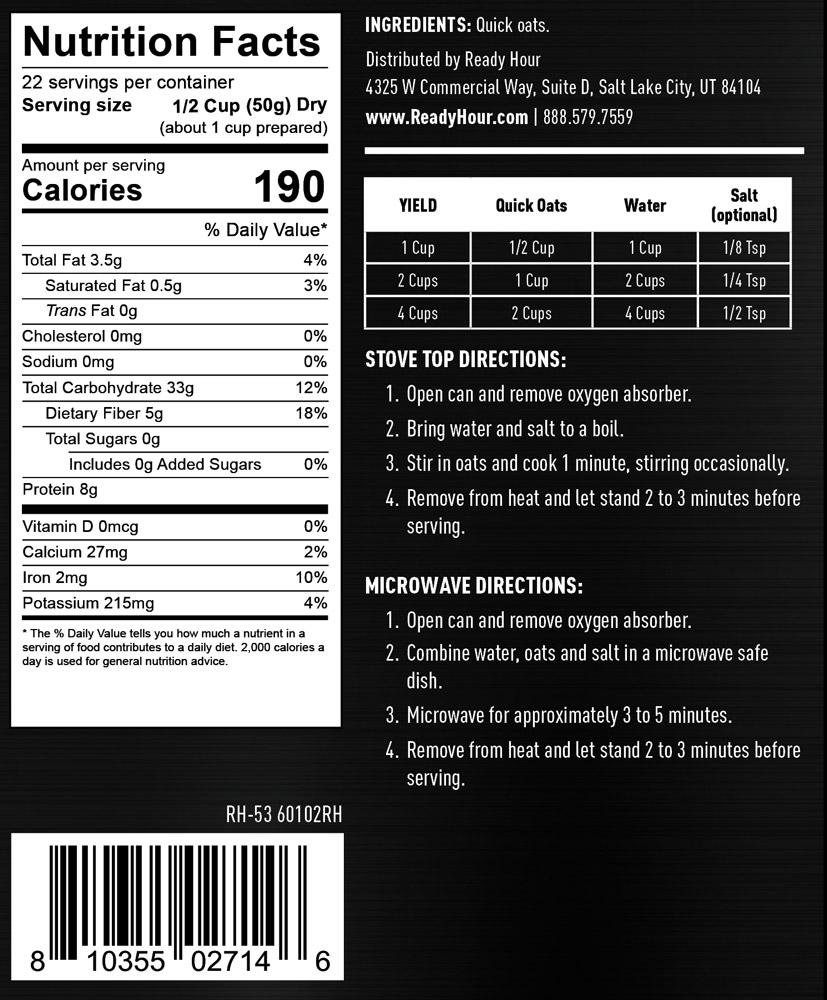 It's best to store this emergency food in a dry, cool location — a dark area, if possible, at temperatures between 55°F and 70°F. Actual shelf life may vary based on individual storage conditions.
Quick Oats (22 Servings) Canada