Alexapure Pro Replacement Parts Kit With Spigot
To ensure your Alexapure Pro® water filtration system is always running at its peak, it's a good idea to keep a backup for some of the smaller parts. These parts may go missing in transport during an emergency. Over time, they may need replacing, especially with use in rough terrain or tough weather conditions.
Keep a replacement parts kit on hand for that "just in case" scenario. That way you can ensure peak operation of your Alexapure Pro filtration system's ability to bring cleaner, safer drinking water to your family.
This Repair and Parts Kit includes: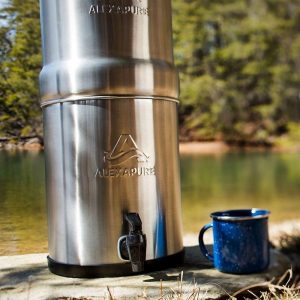 3 rubber plugs for filter ports
1 non-slip rubber base ring
1 plastic knob for lid (assembly hardware included)
1 plastic spigot (assembly hardware included)
The Alexapure Pro will benefit your family in many ways:
Water filters provide better tasting and better smelling drinking water by removing chlorine and bacterial contaminants.
Point-of-use water filters remove lead from drinking water immediately prior to consumption, thus preventing this harmful substance from entering the body.
The purchase of a countertop filter results in a source of clean, healthy water that costs much less than bottled water.
Drinking pure water is especially important for children. Water filters provide the healthiest water for children's developing immune systems.
Water filters offer the last line of defense between the body and the over 2100 known toxins that may be present in drinking water.
Alexapure Pro Replacement Parts Kit With Spigot Canada