Alexapure Breeze Filter Replacement 4-Pack
Best Value! SAVE MORE when you purchase FOUR.
Stock up on Alexapure Breeze Filter Packs!
Alexapure Breeze Air Filter Features: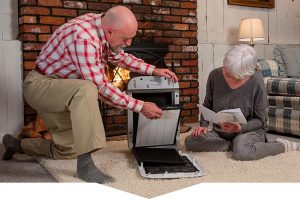 True HEPA filter
Activated carbon filter
Together, reduce up to 99.97% of airborne contaminants as small as 0.03 microns that pass through them
Easy-to-install with a simple instruction guide
33x more effective than "HEPA-like" or "HEPA-type" filters
We recommend you change your filters every 9-12 months, or when you notice diminished air quality
What's in the Package:
Four (4) Certified Breeze true HEPA filters
Four (4) Certified Breeze activated carbon filters
NOTE: You will receive 4 "packs" containing one of each filter to make it easier when it comes time to replace.
Save money!
Purchased separately: $279.86
Purchased together: $199.00
Your Savings: $80.86 (Prices Are In US Dollars)

Alexapure Breeze Filter Replacement 4-Pack Canada