Alexapure Go Water Filtration Bottle

If you're looking for the ultimate combination of a durable, sporty water bottle and portable water filtration system this will be the only product on the market you will ever buy. The Alexapure Go has been scientifically engineered for you to safely drink from any fresh water source including: lakes, rivers, streams, ponds and of course your own faucet. Your new Alexapure Go is equipped with ionic adsorption micron filter technology which eliminates 99.9999% of all the harmful bacteria and viruses found in many water sources. Plus, you can fill the bottle up to 1,371 times without changing filters. All Alexapure water and air filtration products are guaranteed for quality. Test drive pure, healthy taste of your new Alexapure Go today!

In the back country. In a marathon. Off-Grid. In an emergency. Get prepared for wherever life takes you with the Alexapure go. The leading sports filter bottle with groundbreaking Alexapure technology, go captures sediment, microbes, heavy metals, pesticides, herbicides, chlorine, fluoride and other contaminants. All that reaches your lips is pure water as nature intended. You can't see all of the impurities in raw water sources. In fact, the most harmful pathogens are microscopic. With Alexapure go, you don't have to worry. The proprietary ionic adsorption micron filter effectively removes and/or neutralizes up to 99.9999 Percent of the waterborne pathogens you didn't even know were there. The Alexapure go, along with the rest of the Alexapure family of water filters, is carefully crafted by my patriot supply, a trusted source for emergency preparedness products. Trust Alexapure to supply safe, healthy drinking water for every member of your family.

Achievement new adsorption micron channel Technology wipes out 99.9999% of destructive microscopic organisms and Viruses found in ordinary drinking water
Drink up to 38,400 Ounces of water without changing channels
Secure grasp and energetic structure makes transport of container simple
Spare hundreds on purchasing overrated filtered water and protect nature
Produced using strong and safe plastic with a finished secure hold
The Alexapure® Go is the main water bottle with exclusive ionic assimilation micron channel innovation. It decreases up to 99.9% of contaminants, including lead, microorganisms, and infections, from any new water source. At the point when you are on the path, basically fill it with water from the rivulet, stream or lake and your Go will deal with the rest. A straightforward crush into a cooking dish will deliver water which is alright for preparing food or utilizing in plans. Clean up to 300 gallons of water for every channel – that is sufficient water for one individual for around 150 days of day by day use!
Cleaner, cleaner drinking water. You can't get by without it, yet where do you get it, and how would you know it's unadulterated?
Alexapure items are the top brand of gravity-took care of and compact water channels we convey in light of the fact that we realize that you anticipate the absolute best. Trust Alexapure to gracefully sheltered, sound drinking water for each individual from your family. We do.

Alexapure Go Features:
Unprecedented performance
Bottle holds 28 ounces of water
Filtering capacity of up to 300 gallons
Replaceable filter
Cost-effective alternative to disposable water bottles
Lightweight and compact
Made of BPA-free, FDA-approved food grade materials
Meets or exceeds NSF/ANSI Standards 42 and 53
Meets or exceeds EPA eduction requirements for aesthetic, inorganic, organic and microbial contaminants
Made in the USA
Alexapure Go includes:
Insert with complete instructions
Food-grade, BPA-free plastic bottle
Personal-sized ionic absorption filtration system
Rugged drinking straw
Cap
Sporty lanyard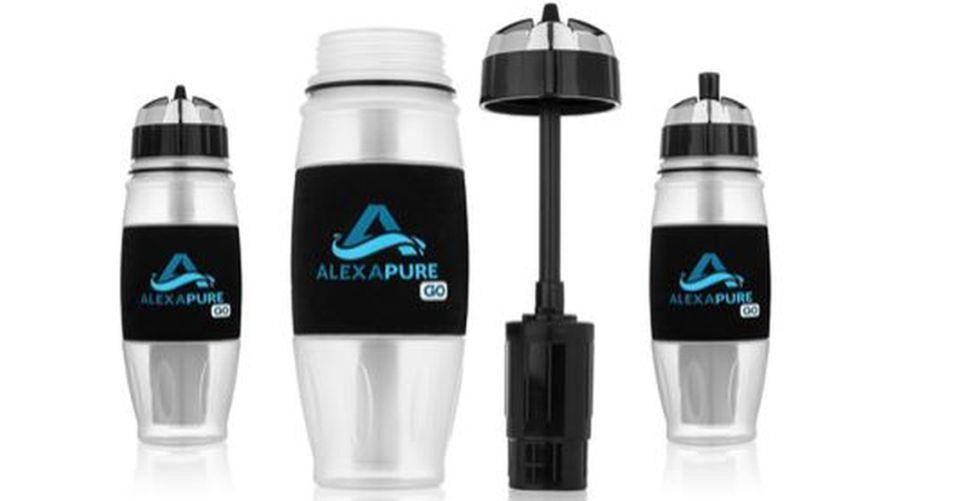 We stand behind the Alexapure Go Water Filtration System!
Your Alexapure Go requires little maintenance. We recommend that you provide the following care:
Cleaning the filter
After using the Go, blow through the straw a couple of times to clear the filter. Remove the cap, rinse the parts with fresh water and let them dry completely. Replace the cap and store your Go in a cool area out of direct sunlight.
Review Independent Test Results Here
| | |
| --- | --- |
| Item Weight | 181 g |
| Product Dimensions | 8.9 x 8.9 x 24.1 cm |
| Item model number | 2424 |
| Color | Evening Blue Print |
| Size | Medium |
| Height | 9.50 inches |
| Length | 3.50 inches |
| Weight | 181 grams |
| Width | 3.50 inches |
| Number of Pieces | 1 |
| Batteries Included? | No |
| Brand Name | Alexapure |
Alexapure Go Water Filtration Bottle Canada