Why Have Survival Essentials?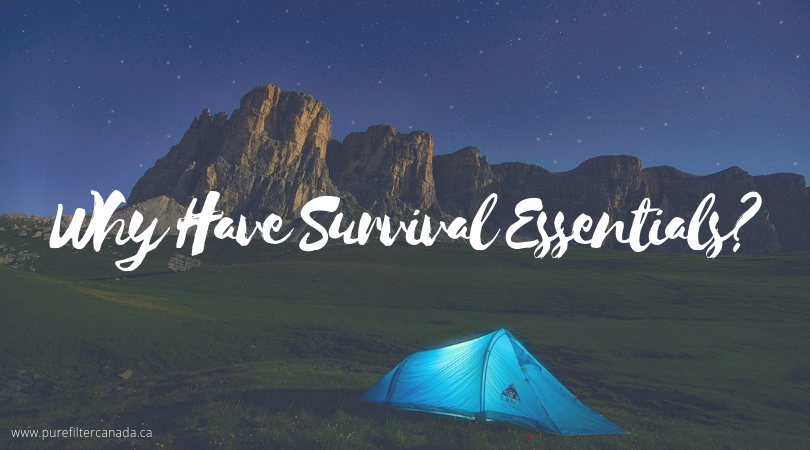 Do you have what you need to survive? We're tell you outdoor survival gear to get you through any emergency.
For non-survivalists, emergency gear is only for serious adventurers or those anticipating end-of-days both for the earth or just in terms of capitalism. But survival gear isn't limited to this very niche market. It's something everyone should have even if your greatest adventure is a walk in the woods.
Every year, 150 people in the United States die on expeditions in our national parks. Meanwhile, thousands find themselves in trouble in America's back-country regions and require help from professional rescue teams.
Incidences of weather are becoming more serious. Hurricanes are nastier than ever before. Fires break out across the country. Snowstorms are the gift that just keeps giving.
By now we probably sound like doomsday believers ourselves, but we're not trying to scare you. It's just that there are more reasons to invest in survival gear than you think – even and especially if you don't intend to leave your home.
Putting together a survival kit is a straightforward process. In this article, we'll share both our methodology.
How to Build a Survival Kit from the Ground Up
Survival kits are focused on preparedness for anything and everything – it's the foundation of the entire kit. The premise of preparedness should underline the way you buy the equipment found.
In other words, start with the gear directed at caring for your basic needs and scale from there.
For example, don't worry about a generator large enough to power a working farm if you haven't yet bought a water filter or shelter.
Your massive generator won't shield you from the rain or provide clean drinking water – two essential things required for survival.
Emergency Food
You can live for three weeks without food – but you don't want to.
Stocking up on food doesn't just mean filling your pantry, particularly if you're one of those people who likes to "do things on the weekends" like visit a national park or go hiking.
Hydration
You might last weeks without food – plus, you can scavenge – but you'll only last a few days without water.
What's more, drinking unclean water could reverse the effects of hydration by passing on chemicals or even living things that poison you.
Thus, water filters are an essential piece of outdoor survival gear. You should never hit the trail without one.
Basic Emergency Kit
There's a bunch of bits and pieces that should be mandatory for every backpacker or household.
From knives to compasses, these tools can get you out of virtually any scrape without a scratch.
Rather than buying them all individually, consider buying them in a kit.
Shelter
You've got your essentials including food and basic tools to get you out of immediate danger.
Now, you need shelter.
Emergency Blankets
A few of the products above included emergency blankets, but the reality is that you can never have enough thermal blankets.
They get lost; they tear; they're sometimes single use.
They're also small and easy to lose.
First Aid Kit
A few of the products mentioned above come with mini-first aid kits.
While these are handy, and it never hurts to have more gauze, you shouldn't go without a premium first aid kit.
In our opinion, a well-organized first aid kit is one of the most overlooked pieces of kit: in a life or death scenario, you shouldn't be digging for a tourniquet.
Battery Charger
While many of these pieces are simple and often like their competitors, there's one piece where product differentiation matters: battery chargers.
The technology available on battery chargers has changed dramatically, and the cheap version of this product is only slightly better than having no charger at all.
Stove
By now, you've got all the basics for making through the first few days of a disaster.
It's time to start thinking and buying long-term.
A camping stove is a great addition to your survival gear because it serves several purposes. Camping stoves provide heat, ways to cook, and a way to boil water if your other methods of filtration fail.
Sanitation
If you're going to be without power and water for any amount of time, you need to focus on keeping your surroundings sanitary.
Toilet use in inevitable, but it's also an easy way to contaminate your drinking water and spread disease.
That's why a portable toilet is a good investment for outdoor survival gear.
Communication Devices
Maybe the cell towers are down – maybe there aren't any around. The solution? Satellites.
Investing in an off-grid communication device will allow you to use your phone even when you don't have service.
Getting through an emergency is a lot easier with the right survival gear.