Survival Shot – Emergency Survival Food Supplement
Ready Hour Survival Shot – Emergency Food Supplement (30 day, 180 ct.)
NUTRIENTS AND MINERALS, A NATURAL ENERGY SHOT
In case you're one of the numerous individuals in the United States who needs the moment help gave by concentrated vitality shots, you may be thinking about would could it be that makes it work? The appropriate response is simple….
Nutrients and minerals are all you need!
At the point when you need nutrients and minerals, you can rely upon Ready Hour Survival Shot. This 30-day gracefully will furnish you with the nutrients and minerals your body needs to endure. With a smooth chocolate flavor, this thing keeps going 10 years.
Weighs 1.8 pounds.
Store it up for when you need it or use it consistently to enhance your eating regimen. This item is additionally Gluten free.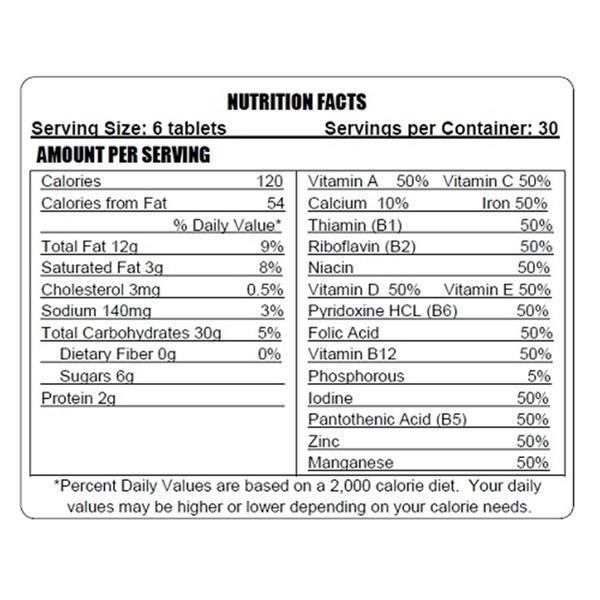 30 Day Emergency Survival Food Nutritional Supplement (180 tally)
This jug contains a multi day gracefully of fundamental nutrients and minerals. Endurance Shot from Ready Hour is an "absolute necessity" to add to any food stockpiling plan. Force pressed with the key supplements your body needs during a period of emergency, Survival Shot will help keep you running at your best!
Since your body requires supplements during a crisis, Survival Shot permits you to consistently ensure you are getting the nourishment your body needs, paying little mind to your food stockpiling plan.
These slug formed chewable (and flavorful) tablets can be taken with dinners, without anyone else, and may even be utilized as an every day admission dietary enhancement. Incredible chocolate flavor! 10-year time span of usability. Gluten free.
Endurance Shot – "When the going gets tough…bite the slug."
Ingredients: Non-Fat Dry Milk Solids, Sucrose, Vegetable Oils (including Sunflower and/or Safflower Oil), Calcium Phosphate, Ascorbic Acid, Vitamin E Acetate, Niacinamide, Ferrous Fumarate, Zinc Gluconate, Natural and Artificial Flavors, Calcium Pantothenate, Potassium Pyridoxine Hydrochloride, Riboflavin, Thiamin Hydrochloride, Vitamin A Palmitate, Vitamin D3, Folic Acid, Potassium Iodide, Cyanocobalamin.
Survival Shot – Emergency Survival Food Supplement Canada