Powdered Whey Milk (93 Servings)
With Ready Hour Powdered Whey Milk in your larder, your family need never go without the rich goodness of milk again, even in a crisis. Designed to stay fresh for up to 20 years if unopened, our powdered milk is an essential for your survival food kit, providing you and your loved ones with a nutritional, familiar beverage to keep you going.
You will also find dozens of ways to tap into the convenience of Powdered Whey Milk on a daily basis. From cookies to homemade candies, rich cocoa and airy cake, your cuisine is sure to benefit. It requires no refrigeration, so take along some Powdered Whey Milk on your backpacking or canoeing trips too. All you need to do is add water. This item comes in a big #10 can size, about five times the size of a normal soup can.
Powdered Whey Milk Benefits: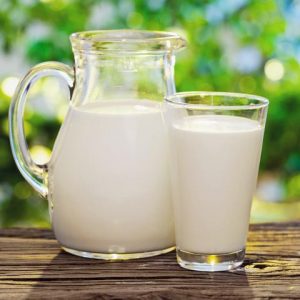 Ultimate convenience
Easy to measure and use
Great for recipes
Up to 20-year shelf-life unopened
Up to 1-year shelf-life after opening
#10 can size, about 5x average soup can
Requires no refrigeration
Gluten free
Made in the USA
Directions for Powdered Whey Milk:
Discard the oxygen absorber packet immediately after opening.
For one cup of milk, add 2 Tbsp powdered milk to 1/4 cup of warm water.
Stir to dissolve.
Add 3/4 cup of cold water and stir.
Chill the milk for the best flavor.
Ingredients:
Whey, creamer (coconut oil, corn syrup solids, sodium casenate [a milk dervative], dipotassium phosphate, sugar, mono-and diglycerides, sodium silicoaluminate, polysorbate 80, tetrasodium pyrophosphate, soy lecithin), skim milk, vitamin A, vitamin D, sugar, guar gum.
Allergen Alert: This product contains dairy and soy.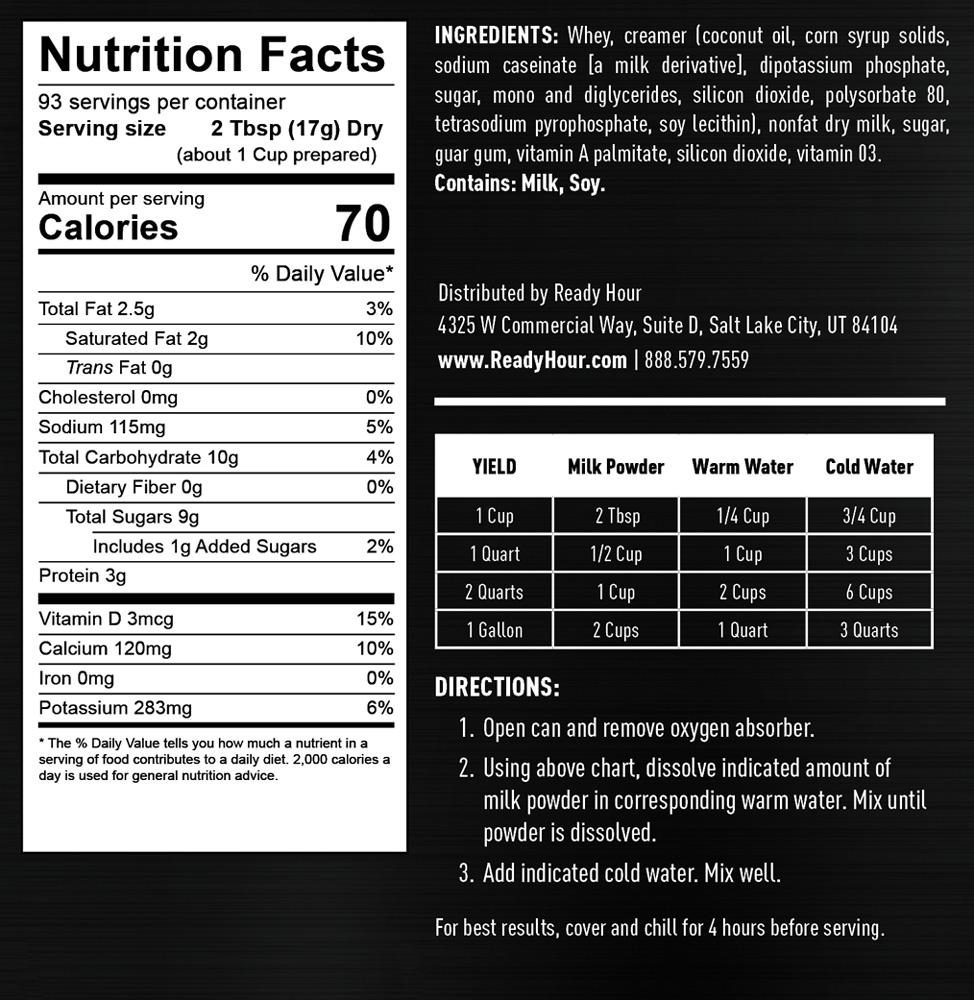 It's best to store this emergency food in a dry, cool location — a dark area, if possible, at temperatures between 55°F and 70°F. Actual shelf life may vary based on individual storage conditions.
Powdered Whey Milk (93 Servings) Canada