Why Grow Your Own Food?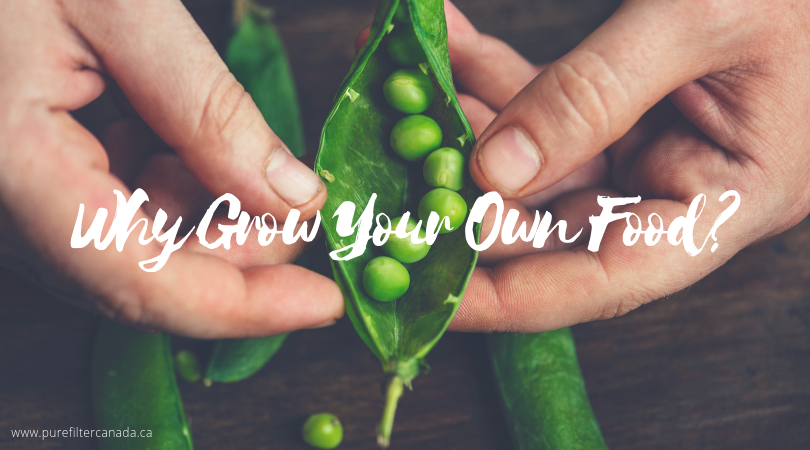 Learn how growing your own food can improve your physical and mental health, as well as the health of the environment.
Growing your own produce is a simple solution to numerous health, environmental, and economic problems. Whether you are growing a single tomato plant or have a large backyard garden, it is beneficial to your health, as well as the environments.
Five reasons to grow your own food include:
1. More Nutritious
When growing your own food, your diet is more diverse and healthy, packed with vitamins, minerals and antioxidants. Food in its rawest, freshest form is not only the tastiest way to enjoy it, but also the most nutritional. The majority of produce sold in grocery stores go through a long process of being harvested, shipped and distributed to stores. Once distributed, the produce can end up staying in storage or on the shelf for an extended period of time before being purchased, losing nutritional value.
2. Stay Active
Gardening is a fun way to get outside for some fresh air and physical activity. The physical activity required in gardening has proven to promote physical health. Involvement in gardening helps to improve cardiac health and immune system response, decrease heart rate and stress, improve fine and gross motor skills, flexibility and body strength. Getting regular exercise can relieve stress, anxiety and depression, while boosting energy.
3. Get Vitamin D
Gardening is a great way to absorb vitamin D, known as the sunshine vitamin. Vitamin D is crucial in order to maintain healthy bones and teeth, and it can also protect against certain diseases.
4. Save Money
You can save a lot of money by growing your own vegetables and fruits. By spending a few dollars on seeds, plants, and supplies in the spring, you will produce vegetables that will yield pounds of produce in summer.
5. Better for the Environment
Long-distance transportation of produce relies heavily on fossil fuels. Growing your own food would help reduce the reliance on this transportation that is harming the environment. Also, by growing your own food, you are not using chemicals or pesticides that can harm environment.
Benefits for you and your family:
Fresh and nutritious fruits and vegetables. Fruits and vegetables from your own garden are higher in nutrients than the ones that have traveled several thousands miles to get to your grocery store.
Having your children assist you in the garden can increase the chance that they will eat more of the fruits and vegetables they have helped to grow.
Growing your own fruits and vegetables can offer you the opportunity to reduce the amount of pesticides that you use in your garden, making them healthier.
Growing your own fruits and vegetables will save your money at the grocery store.
Gardening increases physical activity. It is a great way to engage the whole family in physical activity and lets them help to take responsibility for the garden.
The fruits and vegetables grown in your garden will promote health because they are rich in nutrients, especially in phytochemicals, anti-oxidants, vitamin C, vitamin A and folate.
Gardening gives you're a real sense of appreciation when you can see the bounty of your efforts.
Growing a garden gives you a new appreciation for nature, when you can have the opportunity to see how things grow.
Gardening may stimulate many new interests. You may want to learn more about botany, landscape architecture, photography, nutrition, and farmer's markets.
Gardening gives you the opportunity to give back. If you have an abundant garden, you might give some of your produce to the local soup kitchen or food bank.
This can be a great time to create memories with your children, memories that can last a lifetime.
Your garden can lead to new skills, and knowledge for you and your family, your child may have a new found interest to become a chef!
Our Patriot Seeds heirloom seeds store 5+ years in a cool location. These seeds are not tainted or genetically modified in any way and grow better quality plants that offer exceptional flavor and continual harvests.
Seeds collected from heirloom varieties can be saved and planted year-after-year, making them a worthwhile investment into your future gardens.