Sale!
Quick Oats (22 Servings)
IN STOCK! Place Your Order Now!
BREAKFAST MADE SIMPLE WITH HEALTHY OATS
Do you wake up weekday mornings on the go? Whether you have young children, lunches to pack, or a high-energy job (maybe even all three), weekday mornings often resemble a chaotic war?
Ready Hour Quick Oats are just like it states, quick, simple and affordable. Makes it an easy choice when deciding what to serve your family when time is limited. Top your oatmeal with Ready Hour Strawberries or Pineapple for added flavor. You can also include our Ready Hour Honey Powder which is an excellent source for natural sweetness.
Ready Hour Quick Oats make a great breakfast or store them in your pantry for a ton of other uses like granola, or topping on your desserts.
Delivered to you in our #10 can made of durable steel that is both waterproof and rodent proof makes this method of storing the number one choice with our customers.
Ready Hour Quick Oats lasts up to 30 years unopened, and one year once it is open. Store it in a cool, dry location where temperatures stay between 55 and 75 degrees for optimal longevity.

Compare
Quick Oats (22 Servings)
Whenever you need a convenient boost of energy, there's nothing like a hot bowl of oatmeal to help you power through a tough day, especially in an emergency. Ready Hour by My Patriot Supply Quick Oats are easy to prepare and ideal for baking and dessert recipes, like oatmeal raisin cookies!
Keep a can in your pantry for daily use and store one in your emergency kit to have a hot, nutritious meal option at the ready. Also perfect for backpacking and canoeing adventures to keep you active and alert. Our Quick Oats have a 30-year shelf life unopened and will last a year after opening. Should an emergency strike, having oats as a source of nourishment is a great safety net. This item comes in a big #10 can size, about five times the size of a normal soup can.
The versatility of Quick Oats:
Breakfast staple
In homemade bread
In cakes or other baked goods
Quick Oats Benefits:
Ultimate convenience
Easy to prepare
Excellent nutrition
Ideal for off-grid use
Perfect for baking and desserts
Up to 30-year shelf-life unopened
Up to 1-year shelf-life after opening
#10 can size, about 5x average soup can
Requires no refrigeration
Made in the USA
Directions for Quick Oats:
Discard the oxygen absorber packet immediately after opening.
Boil one cup of water with a pinch of salt.
Add 1/2 cup Ready Hour Quick Oats and Stir.
Cook for 1 minute, stirring frequently.
Remove from heat and allow the oatmeal to sit for 2 minutes.
Add toppings and enjoy!
Ingredients:
Quick rolled oats.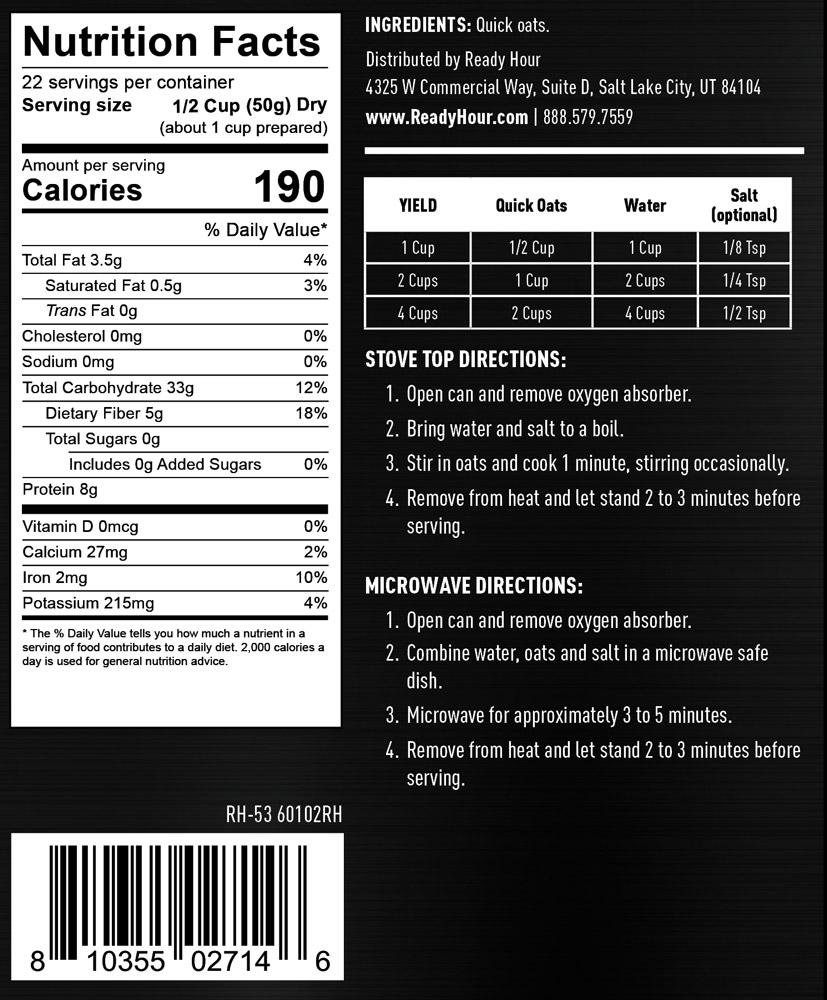 It's best to store this emergency food in a dry, cool location — a dark area, if possible, at temperatures between 55°F and 70°F. Actual shelf life may vary based on individual storage conditions.
Quick Oats (22 Servings) Canada