Powdered Whey Milk Case Pack (96 Servings, 6 PK.)
Versatile in Recipes and Full of Vital Nutrients!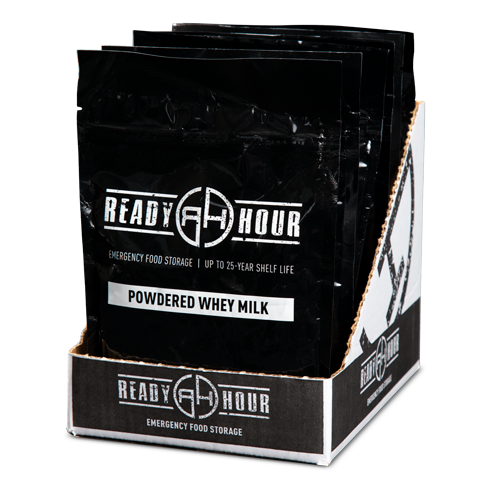 Case packs allow you to buy in large quantities, without wasting what you don't use right away! These cases come with six pouches of powdered milk. This helps you maintain the shelf-life of your food and drink until you're ready to cook with or drink it.
With Ready Hour by My Patriot Supply Powdered Whey Milk case packs in your larder, your family need never go without the rich goodness of milk again, even in a crisis. Buy the case and you get the ultimate in custom convenience. Designed to stay fresh for up to 25 years if unopened, our powdered milk is an essential for your survival food kit. A large quantity of Powdered Whey Milk provides you and your loved ones with a nutritional, familiar beverage to keep you going. That's why it's always a good idea to keep a case pack or two on hand.
The Powdered Whey Milk Case Packs boxes are 7 1/2 x 6 1/2 x 9 inches. NET WT. 9.59 oz (272g) per pouch, for total combined weight of 57.54 oz (1632g).
In terms of nutrients like calcium and protein, dried milk is comparable to fresh milk.
You will also find dozens of ways to tap into the convenience of Powdered Whey Milk on a daily basis. Our case packs are perfect for measuring out what you need out of an individual pouch, without having to use up the entire case. From cookies to homemade candies, rich hot cocoa and airy cake, your cooking is sure to benefit. It requires no refrigeration, so take along some Powdered Whey Milk on your backpacking or canoeing trips too. All you need to do is add water.
Powered Milk Benefits: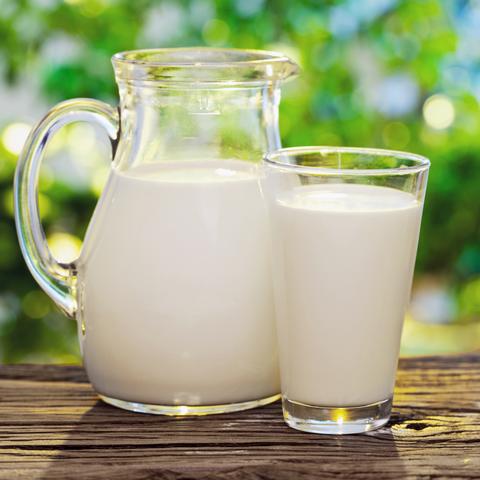 Bulk cases with multiple pouches
Ultimate in convenience and choice
Easy to prepare
Balanced Nutrition
Ideal for off-grid use
Up to 25-year shelf-life unopened
Up to 1-year shelf-life after opening
Includes 6 pouches
16 Servings per pouch
Requires no refrigeration
Gluten free
Made in the USA
Directions for Powdered Milk:
Discard the oxygen absorber packet immediately after opening.
For one cup of milk, add 2 Tbsp powdered milk to 1/4 cup of warm water.
Stir to dissolve.
Add 3/4 cup of cold water and stir.
Chill the milk for the best flavor.
Ingredients:
Whey, creamer (coconut oil, corn syrup solids, sodium casenate [a milk dervative], dipotassium phosphate, sugar, mono-and diglycerides, sodium silicoaluminate, polysorbate 80, tetrasodium pyrophosphate, soy lecithin), skim milk, vitamin A, vitamin D, sugar, guar gum.
Allergen Alert: This product contains dairy and soy.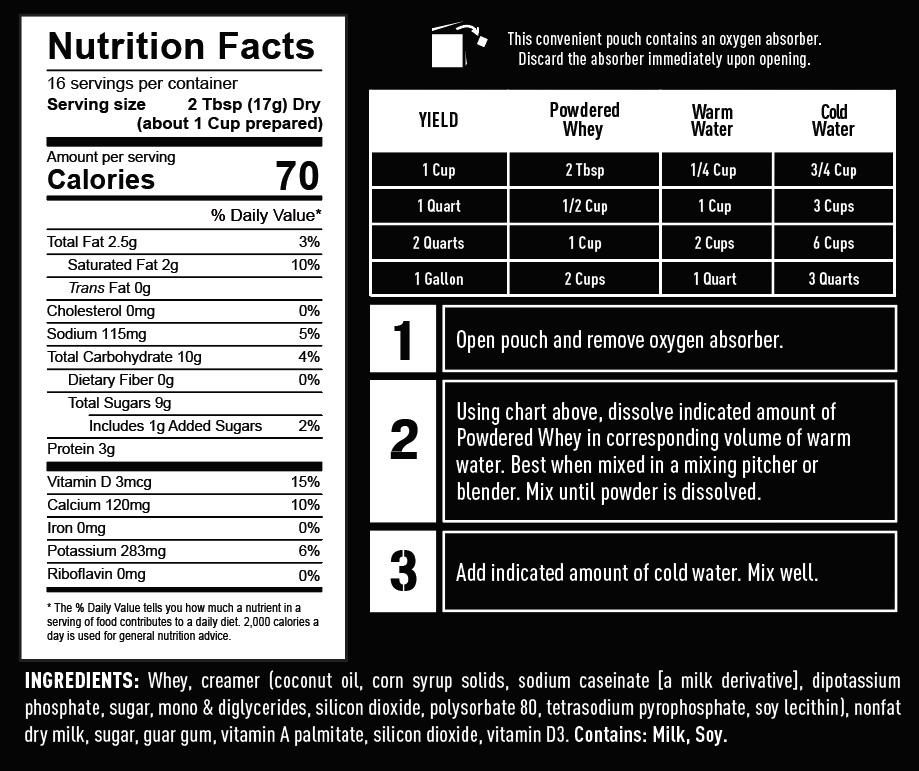 It's best to store this emergency food in a dry, cool location — a dark area, if possible, at temperatures between 55°F and 70°F. Actual shelf life may vary based on individual storage conditions.
Powdered Whey Milk Case Pack (96 Servings, 6 PK.) Canada