Orange Energy Drink Mix (63 Servings)
With Ready Hour Orange Energy Drink Mix on hand, your household always has delicious hydration on demand.
Formulated with your health in mind, our yummy citrus mix packs in essential vitamins A, C, and D. This helps fortify you during an emergency. Vitamin C deficiencies can lead to scurvy – a disease that could be an issue with no fresh produce available. That's why you need a replacement in your supplemental food storage plan, and it's precisely why we developed it.
Ready Hour Orange Energy Drink provides a burst of energy and a tasty treat when you need it the most. Buy it in our bulk can for daily use and in sealed cans for your emergency survival food supply. This item comes in a big #10 can size, about five times the size of a normal soup can.
Directions:
Discard the oxygen absorber packet immediately after opening.
Stir the drink mix before using.
Add the correct amount of water to drink mix from the chart below.
Stir and serve over ice.
Benefits:
Ultimate convenience
Easy to prepare
Packed with vitamin C to boost immunity
Great for Recipes
Ideal for off-grid use
Up to 30-year shelf-life unopened
Up to 1-year shelf-life after opening
#10 can size, about 5x average soup can
Requires no refrigeration
Just add water
Gluten free
Made in the USA
Preparation Chart
Ingredients:
Sugar, citric acid, sweet dairy whey, natural and artificial flavors, sodium citrate, ascorbic acid, vitamin A, vitamin D, FD&C Yellow #6, FD&C Red #40.
Allergen Alert: This product contains dairy.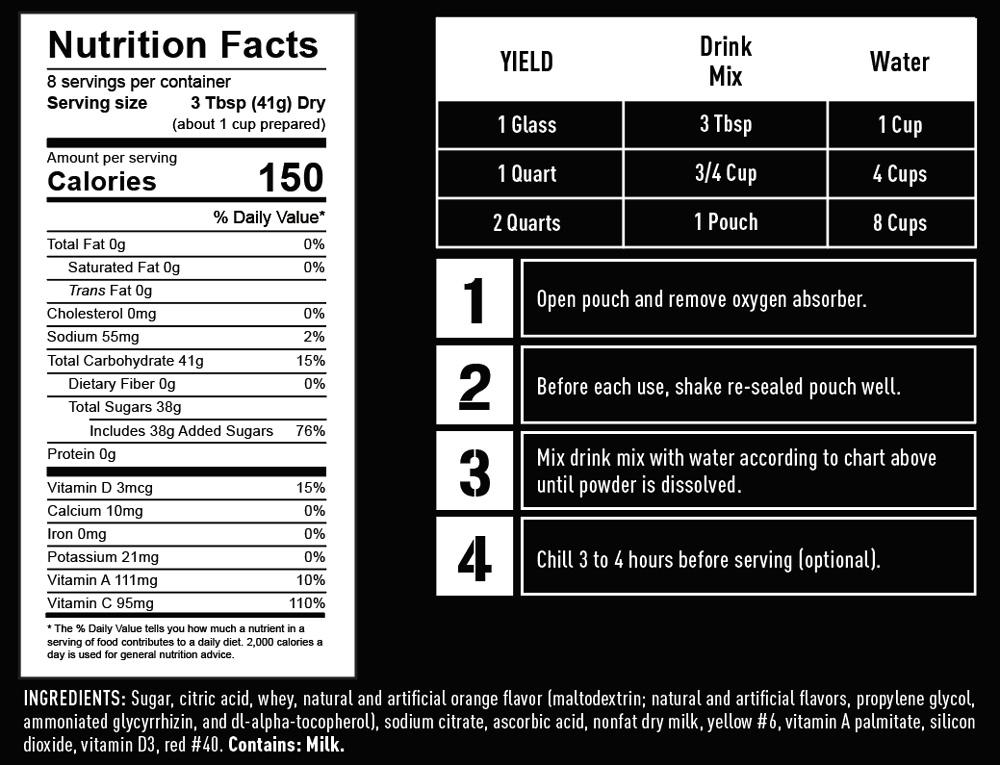 It's best to store this emergency food in a dry, cool location — a dark area, if possible, at temperatures between 55°F and 70°F. Actual shelf life may vary based on individual storage conditions.
Orange Energy Drink Mix (63 Servings) Canada