Freeze-Dried Sliced Strawberries (36 Servings)
Yummy right out of the can or for recipes too. Every emergency food cache needs one.
Strawberries are "nature's candy." Incredibly sweet and tart, our  Freeze-Dried Strawberries in a #10 can are great on their own or in your favorite recipes. They pair well with chocolate, cream, light pastries and much more.
Ready Hour Freeze-Dried Strawberries are a convenient power snack for after school, after dinner, in a lunch box or in an emergency. Buy some for daily use and some for your survival food supply, so that you and your loved ones have healthy snacks should a crisis strike. This item comes in a big #10 can size, more than five times the size of a normal soup can.
Freeze-Dried Sliced Strawberries Benefits: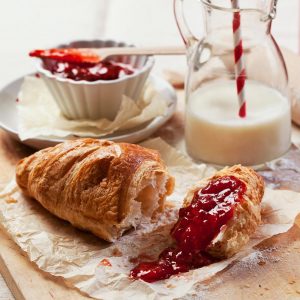 Ultimate in convenience and choice
Easy to prepare
Great for camping trips
Made from real fruit
Up to 30-year shelf-life unopened
Up to 1-year shelf-life after opening
#10 can size, about 5x average soup can
Requires no refrigeration
Gluten free
Made in the USA
Directions:
Open can and remove oxygen absorber.
To rehydrate, cover strawberries with warm water. Let stand 5 minutes, stirring occasionally.
Drain excess water and serve.
Eat as a snack, add to recipes, smoothies, cereals, granolas, desserts, and more.
Ingredients:
Freeze-dried strawberries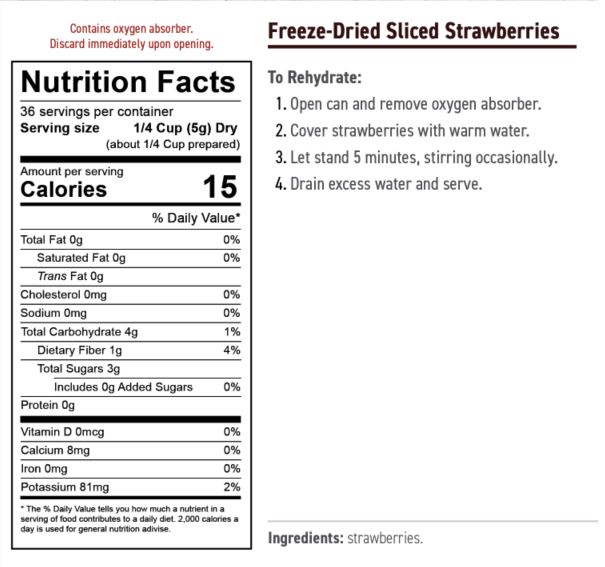 It's best to store this emergency food in a dry, cool location — a dark area, if possible, at temperatures between 55°F and 70°F. Actual shelf life may vary based on individual storage conditions.
Freeze-Dried Sliced Strawberries (36 Servings) Canada