Strawberry Flavored Creamy Wheat Case Pack (48 Servings, 6 PK.)
A Pantry Staple! Keep one in Your Emergency Storage and Your Larder
Ready Hour by My Patriot Supply case packs allow you to buy in large quantities, without wasting what you don't use right away! These cases come with six pouches of food. This helps you maintain the shelf-life of your food until you're ready to cook it.
This Strawberry Flavored Creamy Wheat is a heartwarming, familiar and nutritious time-honored family favorite. This creamy, fruit-infused breakfast dish evokes comforting memories of hot cereal on a snowy school morning. Any family would love a case in their pantry!
Since it requires no refrigeration, Ready Hour Creamy Wheat is essential to have on hand during a power outage or other emergency. Be sure to keep a case of Ready Hour Strawberry Flavored Creamy Wheat in your kitchen cabinet for daily use. And don't forget to save a case for your survival kit too.
The Strawberry Flavored Creamy Wheat Case Pack boxes are 7 1/2 x 6 1/2 x 9 inches. NET WT. 12.89 oz (365g) per pouch, for total combined weight of 77.34 oz (2190g)
Strawberry Flavored Creamy Wheat Benefits: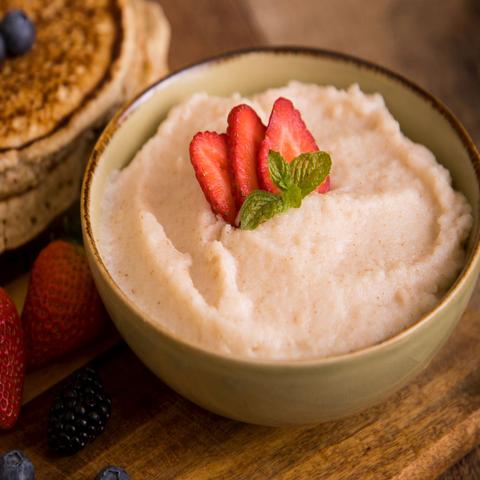 Ultimate in convenience and choice
Breakfast ready in 10 minutes
Ideal for off-grid use
Up to 10-year shelf-life unopened
Up to 1-year shelf-life after opening
Includes 6 pouches
8 Servings per pouch
Requires no refrigeration
Made in the USA
Directions for Strawberry Flavored Creamy Wheat:
Discard the oxygen absorber packet immediately after opening.
Boil the water for the number of servings you wish to make.
Add the Cream of Wheat slowly, whisking constantly.
Bring cereal to a boil.
Reduce the heat to simmer and cook for 10 minutes, stirring often, until the cereal is thickened.
Ingredients:
farina (wheat), sugar, coconut creamer (hydrogenated coconut oil, corn syrup solids, sodium caseinate [a milk derivative], dipotassium phosphate, mono & diglycerides, silicon dioxide, soy lecithin), natural and artificial strawberry flavor (maltodextrin, sugar, natural and artificial flavor, modified corn starch, potassium benzoate [preservative], sulfites), non-iodized salt, natural red coloring (carmine, caramel color, and maltodextrin).
Allergen Alert: It was processed in a facility that also handles wheat, eggs, dairy, soybeans, peanuts, cashews, walnuts and almonds.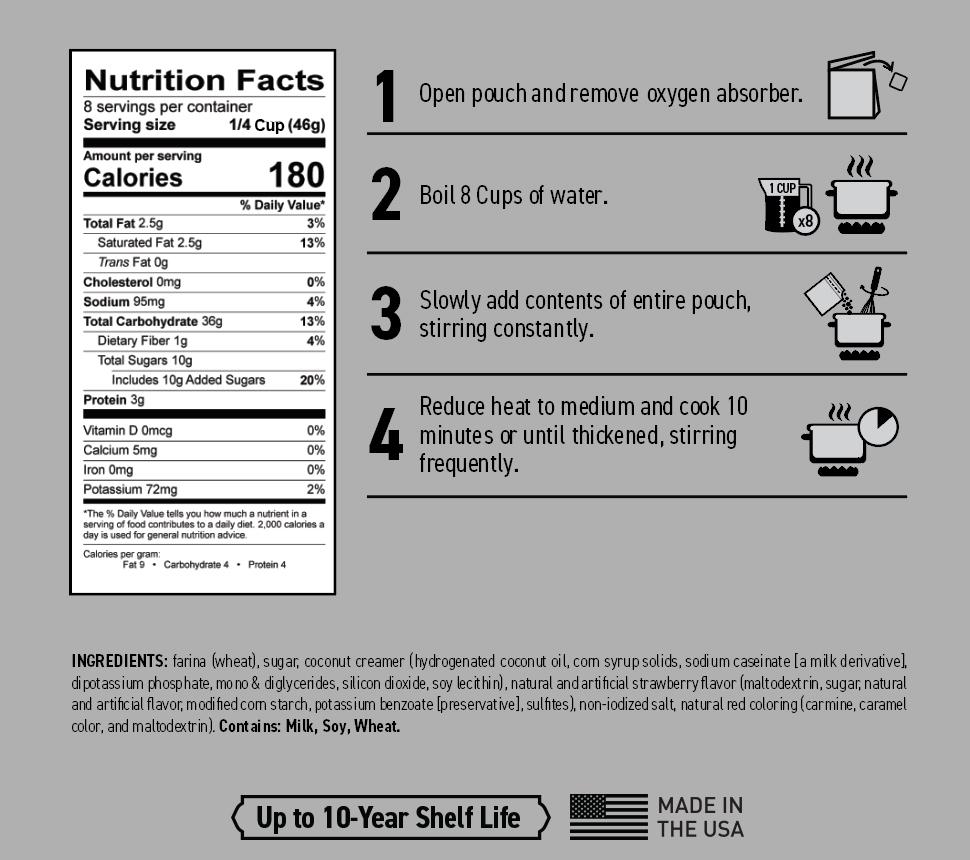 It's best to store this emergency food in a dry, cool location — a dark area, if possible, at temperatures between 55°F and 70°F. Actual shelf life may vary based on individual storage conditions.
Strawberry Flavored Creamy Wheat Case Pack (48 Servings, 6 PK.) Canada