Sale!
Freeze-Dried Pineapple Case Pack (32 Servings, 4 PK.)
IN STOCK! Place Your Order Now!
PINEAPPLE PLEASURE
If you are in a crisis situation and there is no access to grocery stores, you still have access to delicious pineapple by Ready Hour.  Our Freeze Dried Pineapple makes a delicious and healthy snack, or add it to your pizza, fruit dish, or recipes. Pineapple has excellent healing properties such as:
Rich Source of Vitamin C
High in Fiber
Ready Hour Freeze Dried Pineapple lasts up to 25 years unopened, and one year once you open the can. Store it in a cool, dry location where temperatures stay between 55 and 75 degrees for optimal longevity.
All Ready hour packages are resealable zipper-top, heavy-duty 4-layer pouches with oxygen absorbers inside to extend shelf life . That way you can use what you want and store up the rest. Once you've opened a package it is good for up to a year. Case packs make throwing a bag of your favorite Ready Hour foods into your camping gear, RV, or take with you hiking. They are perfect for storing up for an emergency, just make sure you keep it in a rodent proof (preferably metal) container for long term storage.

Compare
Freeze-Dried Pineapple Case Pack (32 Servings, 4 PK.)
With a Freeze-Dried Pineapple Case Pack from Ready Hour by My Patriot Supply, you can get your favorite emergency survival food in bulk!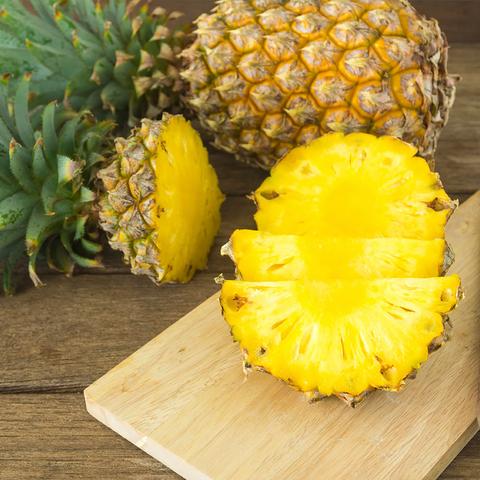 Pineapple. This tangy, sweet fruit makes a great snack. It gives you a natural, nutrient-rich energy boost. These case packs include 4 resealable pouches with 8 servings each. This helps you maintain the shelf life of your food until you're ready to use it.
Since it requires no refrigeration, this freeze-dried pineapple is essential to have on hand during a power outage or other emergency. It has a shelf life of up to 25 years. It's great to addition to other emergency foods, especially tasty as a side for breakfast, lunch and dinner, or use it in your favorite recipes.
Keep a case of Ready Hour Freeze-Dried Pineapples in your kitchen cabinet for daily use too. And don't forget to save a case for your survival kit, The Freeze-Dried Pineapple Case Pack boxes are 7 1/2 x 7 1/2 x 9 inches. NET WT. 1.41 oz (40g) per pouch, for total combined weight of 5.64 oz (160g).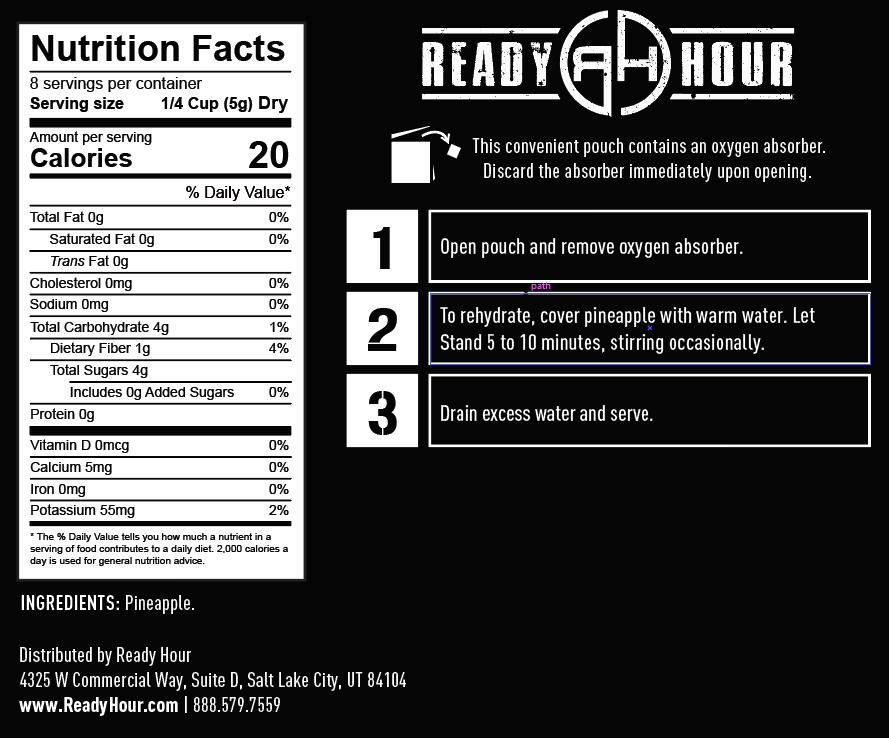 It's best to store this emergency food in a dry, cool location — a dark area, if possible, at temperatures between 55°F and 70°F. Actual shelf life may vary based on individual storage conditions.
Freeze-Dried Pineapple Case Pack (32 Servings, 4 PK.) Canada