2-Week Emergency Food Supply (1,500+ Calories/Day)
Ready Hour 2-Week Emergency Food Supply (1,500+ calories/day)
In This Kit:
Click on the foods below to view nutrition facts. 
Orange Energy Drink Mix – 8 Servings
Creamy Chicken Flavored Rice – 12 servings
Mac & Cheese – 8 servings
Long Grain White Rice – 10 servings
Buttermilk Pancakes – 20 servings
Southwest Rice – 16 servings
Maple Grove Oatmeal – 24 servings
Homestyle Potato Soup – 4 servings
Mushroom Rice Pilaf – 8 servings
Creamy Alfredo Pasta – 4 servings
Kit should be kept in a dark, cool place with temperatures ranging from 55°F to 70°F. 5.7 gallons of water are needed to prepare the entire kit. This food kit has a weight of 18.4 pounds.
Note: Based on inventory levels, Ready Hour may substitute a food and/or drink product with like items of equal or greater value to expedite delivery. 
2,000+ CALORIES A DAY FOR SHORT-TERM SURVIVAL
This Ready Hour food supply from My Patriot Supply includes 10 food varieties in robust packaging for long-term storage. This 2-Week Emergency Food Supply will feed 1 person for 14 days when eating 2,000 calories per day.*
NO SKIMPING ON YOUR SURVIVAL – Meals provide 2,000+ calories per day on average. Supply delivers a total of 27,260 calories and 114 servings
DECADES-LONG SHELF LIFE – Meals can be stored for up to 25 years**
NO FOOD BOREDOM – 10 flavorful food and drink varieties
HIGH-QUALITY PACKAGING – Meals packaged in resealable, heavy-duty 4-layer pouches with multiple oxygen absorbers
DISASTER-DURABLE BUCKET – Pouches sealed in 1 rugged, water-resistant bucket that's resistant to heat and moisture and built for long-term storage (weighs 19 pounds)
EASY TO TRANSPORT – This 14″ x 7″ x 8 1/2″ container comes with a collapsible carrying handle for easy transport
HOMEGROWN – Made in the USA without MSG
CALORIES = ENERGY = SURVIVAL
Our 2-Week Food Supply provides one person with an average of over 2,000 calories per day for 14 days.
Remember, calories are crucial to survival! Other companies skimp on calories, which isn't just wrong—it's reckless. You won't be satisfied with 1,500 calories, and 1,300 calories will leave you starving. Don't settle for less than what your body needs, especially in an emergency.
As the original Patriot company, we take preparedness seriously. Our meal quality, calorie count, and price per calorie prove it.
IDEAL FOR EMERGENCIES
When each person in your household has a 2-Week Emergency Food Supply, you'll be prepared for:
Job loss, illness, or accident
Power outages
Natural disasters
Supplemental meals during financial hardship
Breaks in the supply chain
Outbreaks and mandated quarantines
Camping or cabin trips
MAKING A FOOD STORAGE PLAN
Where do you start?
Preparedness advisers recommend having at least three months' worth of food for every person in your emergency preparedness plan—which often extends beyond a single household to include adult children, grandchildren, friends, and neighbors.
Building a food supply for your home, cabin, shelter, or bunker is a journey. Little by little, your stockpile will grow to meet your preparedness goals. Our 2-Week Emergency Food Supply will help you get there!
LOOK AT ALL THE FOOD YOU GET!
This 2-Week Food Supply Contains: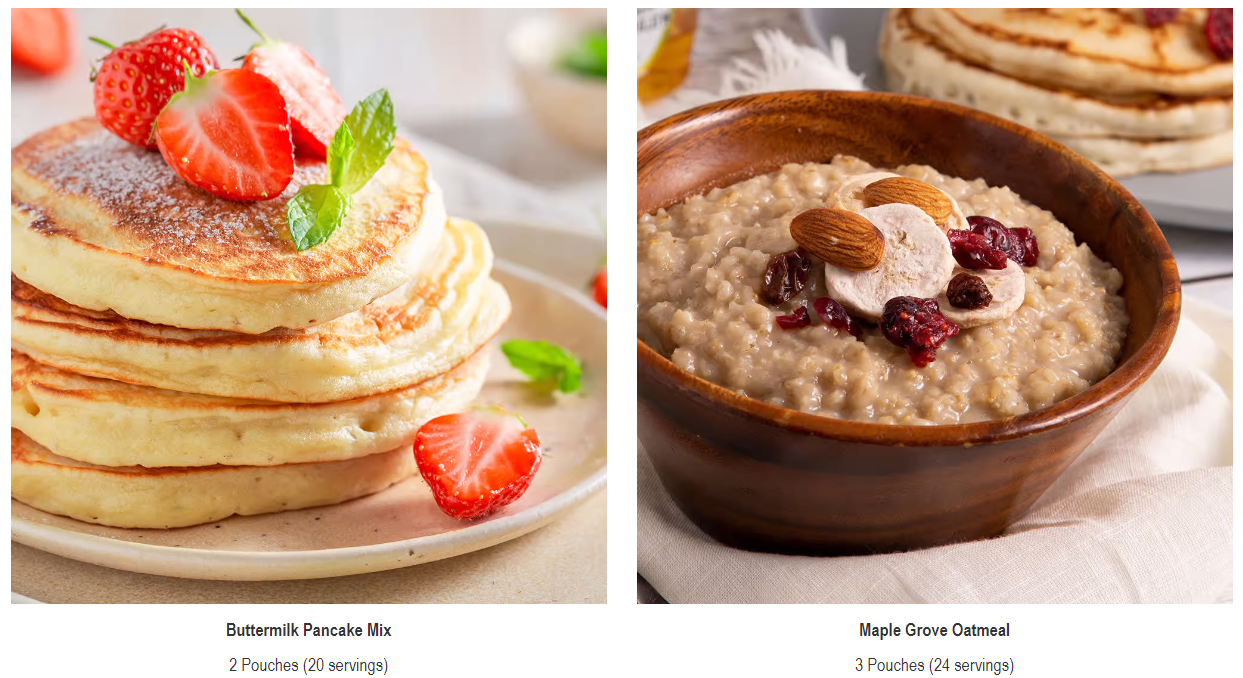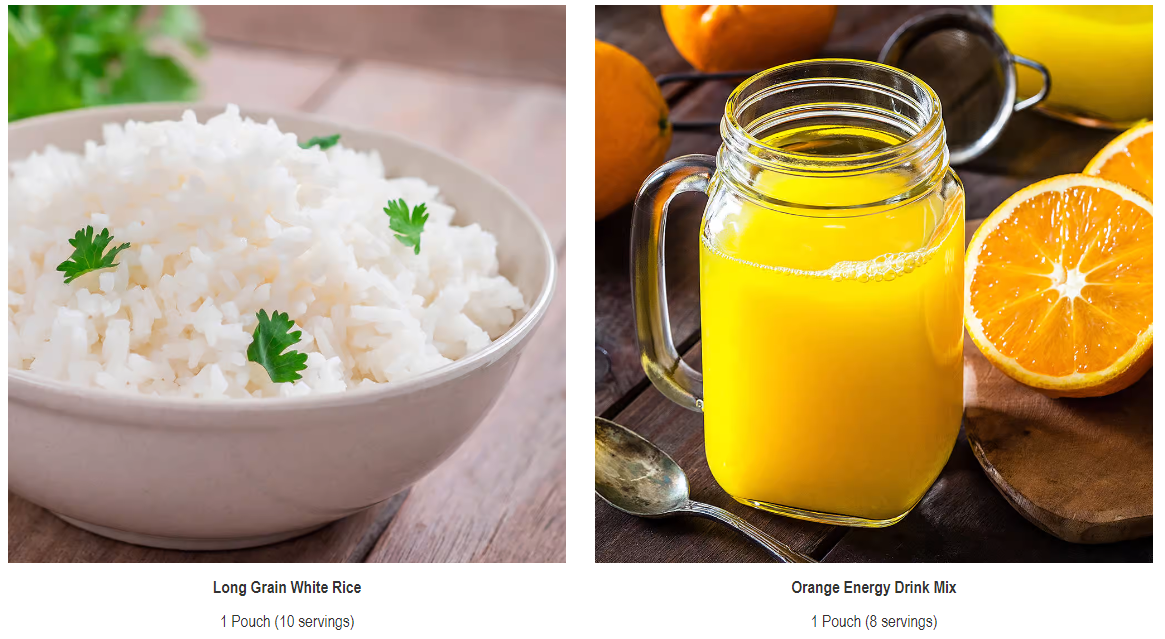 MAKING THE MEALS
This emergency food supply is packed with 16 different food and drink varieties—all delicious, high in calories, and nutrient rich.
To make each of these meals and drinks, all you'll need is water. To prepare the entire supply, set aside 12.7 gallons of water in your emergency water supply.
SUPPLEMENTING YOUR SUPPLY
Consider the foods you already have as you build your emergency food supply.
By adding our 4-Week Emergency Food Supply to your stockpile, you'll have a more complete selection of foods that don't need to be sorted through and replaced every year. Instead, you'll get lasting flavor and freshness you can depend on for decades.
While our 4-Week Emergency Food Supply offers an array of food choices, you can supplement your supply—or customize it based on your preferences and nutritional needs—with these popular emergency food additions:
Fruit, Veggie & Snack Mix – Enjoy essential vitamins and minerals with broccoli, corn, green beans, and more freeze-dried fruits and vegetables.
Mega Protein Kit with Real Meat – Bulk up your diet with protein-packed Beef Dices and White Meat Chicken—both freeze-dried—plus a variety of beans.
Ultimate Breakfast Kit – Get more Hot & Hearty Breakfasts plus Scrambled Egg Mix, Freeze-Dried Sliced Strawberries, and other breakfast favorites.
Beans Trio & Rice Kit – This assortment of versatile staples—including Black Beans and Long Grain White Rice—form a complete protein and are a must-add to your supply.
Gluten-Free Food Kit – If you shouldn't have gluten in your diet, we've got you covered. This kit is filled with flavorful gluten-free foods!
For a well-rounded emergency stockpile, consider adding these items:
Survival Shot by Ready Hour – Take these delicious, chewable tablets to get the vitamins and minerals your body needs in an emergency.
Emergency Water Pouch Case by Ready Hour – No access to water? These single-use water pouches will save you.
Deluxe Sprouting Seeds Starter Kit – Everything you need to grow a countertop garden! Get vitamins, minerals, amino acids, and more in three days or less.
WHY YOU NEED THIS SUPPLY
You don't need to live in the heart of a hurricane zone or along an active fault line to be serious about emergency preparedness.
If we've learned anything from both historical and recent events, crises come in all shapes and sizes—and they can come at any time, even overnight.
Whether you're experiencing the effects of long-term illness, an accident, job loss—or even widespread threats like terrorist attacks, economic collapse, or an outbreak of disease—you can tackle what's next in confidence with our survival food in stock.
No matter what your emergency may look like, you won't have to worry about where you'll be getting your next meal. And as far as your survival is concerned, there's nothing more important than that.
EXCEEDS INDUSTRY STANDARDS
All Ready Hour foods and packaging undergo regular, rigorous testing to ensure they exceed industry standards for safety, quality, and shelf life.
Ready Hour also conducts regular analytical, microbial, and oxygen level inspections, as well as sensory testing of raw materials and finished goods in a food-testing lab.
DON'T DELAY—PREPARE TODAY!
When an emergency is on the way, My Patriot Supply receives a rush of orders that slows our ability to ship as quickly as usual from our warehouses across the country.
Don't wait for disaster to strike. Order before the storm to be queued up for lightning-fast delivery!
It's Not Just Food. It's Freedom.
*Some individuals may want or need more than 2,000 calories per day, such as children, the elderly, and pregnant and lactating women.
**It's best to store this emergency food supply in a dry, cool location—a dark area, if possible—at temperatures between 55°F and 70°F. Actual shelf life may vary based on individual storage conditions. Unopened product pouches included in this supply retain their shelf life after buckets have been opened.
Note: Based on inventory levels and supply shortages, My Patriot Supply may substitute a food or drink product or bucket with similar items of equal or greater value to expedite delivery.
2-Week Emergency Food Supply (1,500+ Calories/Day) Canada