Sale!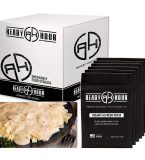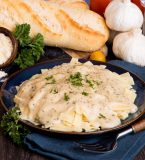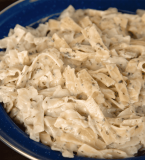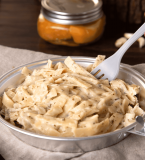 Creamy Alfredo Pasta Case Pack (24 Servings, 6 PK.)
IN STOCK! Place Your Order Now!
BEING PREPARED IS NOT A CONSPIRACY
Have you ever thought of creating an emergency or survival food supply?  Chances are this thought might have never come to the mind of most of you because you believe it's useless and you'll have to face no such emergency in your lifetime.  Unfortunately, that isn't always the case for those of us who live on this planet.  You never know until the last minute when a disaster is going to strike. You must be prepared for the safety of you and your family. That's making sure everyone has enough food and water to get them through the events at hand.
We have the advantage when it comes to our brand of foods. All of our food requires no refrigeration as Creamy Alfredo Pasta normally would. Rich, creamy Alfredo with al dente noodles makes a great main dish or side dish in your next meal. Takes no time at all to prepare and tastes like homemade. You won't believe how great this tastes!
The great news is that our Creamy Alfredo Pasta lasts up to 25 years unopened, and one year once you open the can. Store it in a cool, dry location where temperatures stay between 55 and 75 degrees for optimal longevity.
Since our packages are resealable, you can use what you want and store up the rest. Once you've opened a package it is good for up to a year. Case packs make throwing a bag of your favorite Ready Hour foods into your camping gear, RV, or take with you hiking. They are perfect for storing up for an emergency. This pack weighs 3.95 pounds.
Total Water needed to cook entire case pack is 1.5 gallons

Compare
Creamy Alfredo Pasta Case Pack (24 Servings, 6 PK.)
A True Classic!
Who Says You Have to Give Up the Best in a Crisis?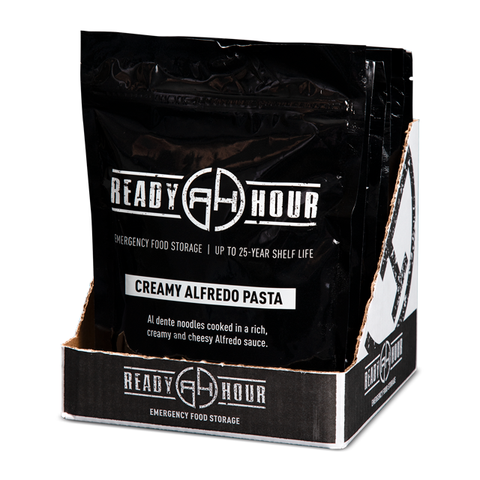 Ready Hour by My Patriot Supply case packs allow you to buy in large quantities, without wasting what you don't use right away! These cases come with six pouches of food. This helps you maintain the shelf-life of your food until you're ready to cook it.
Al dente noodles cooked in a rich, creamy and cheesy Alfredo sauce. Yes, that's right. Our authentic recipe sticks to the basics and does them well – just like in the old country. The best part is all the hard work has been done for you. All you have to do is boil water, simmer, serve and enjoy!
Ready Hour's Creamy Alfredo Pasta case packs are the convenient choice anytime you get a craving. Buy a case for your pantry and you can have this comforting classic in less than twenty minutes. Be sure to buy a case for your emergency supplies. This dish fills you up and keeps you going when you need it most. Make our Creamy Alfredo Pasta your go-to favorite for every occasion or situation!
The Creamy Alfredo Pasta Case Pack boxes are 7 1/2 x 7 1/2 x 9 inches. NET WT. 9.74 oz (276g) per pouch, for total combined weight of 58.44 oz (1656g).
Fettuccine Alfredo Benefits: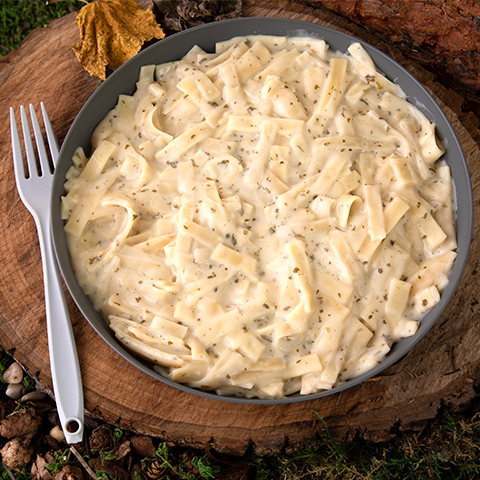 Ultimate in convenience and choice
Hearty and delicious
Easy to Prepare
Ideal for off-grid use
Great for camping
Up to 25-year shelf-life unopened
Up to 1-year shelf-life after opening
Includes 6 pouches
4 Servings per pouch
Requires no refrigeration
Perfect for Bartering
Made in the USA
Directions for Creamy Alfredo Pasta:
Open pouch and remove oxygen absorber.
Boil 4 1/2 cups of water to a boil.
Whisk in entire contents of the pouch.
Simmer on low heat for 15 minutes, stirring frequently.
Remove from heat and let stand 2-3 minutes to thicken before serving.
Ingredients:
Lasagna noodles (semolina [wheat], niacin, iron [ferrous sulfate], thiamin mononitrate, riboflavin, folic acid), creamer (coconut oil, corn syrup solids, sodium caseinate, dipotassium phosphate), white cheese (cheddar cheese, [pasteurized milk, salt, cheese culture, enzymes], buttermilk, whey, salt and natural flavors [contains less than 2% silicon dioxide]), modified food starch, parmesan (whey, maltodextrin, buttermilk, natural parmesan cheese flavor, salt), whey, non-iodized salt, garlic powder, black pepper, lactic acid, parsley
Contains Milk, Wheat.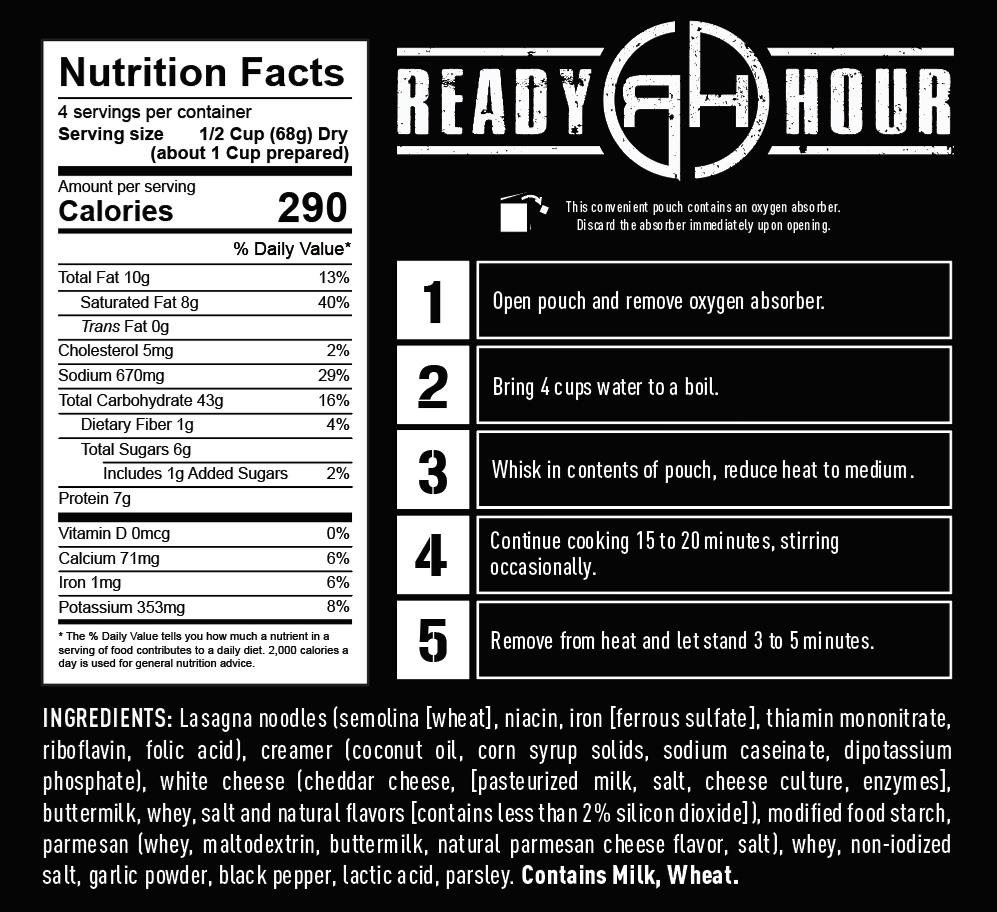 It's best to store this emergency food in a dry, cool location — a dark area, if possible, at temperatures between 55°F and 70°F. Actual shelf life may vary based on individual storage conditions.
Creamy Alfredo Pasta Case Pack (24 Servings, 6 PK.) Canada