Chicken Flavored Noodle Soup (20 Servings)
Our hearty Chicken Flavored Noodle Soup is a classic favorite that makes a comforting meal at any time of day, reviving your sense of well being and providing generous helpings of the nutrients you need.
Made just like your grandmother would have with real egg noodles, vegetables and savory broth, Ready Hour by My Patriot Supply Chicken Flavored Noodle Soup is a family favorite.
Keep this nutritious comfort food on your pantry shelf for regular use, and pack some in your survival kit in case of an emergency! Homemade goodness, quick prep and satisfying flavor are just what you need to stay self-reliant. This item contains 20 servings and comes in a big #10 can size, about five times the size of a normal soup can. Serving size about one cup when prepared.
Be sure to add our Freeze-Dried Chicken.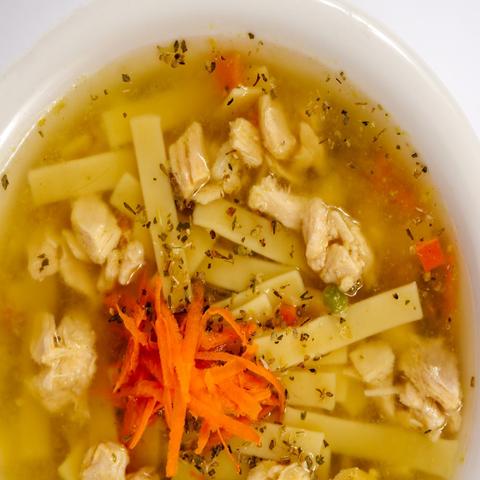 Chicken Flavored Noodle Soup:
Ultimate convenience
Easy to prepare
Family favorite
Ideal for off-grid use
Delicious flavor and the health benefits of vitamin A and other essential nutrients
Up to 25-year shelf-life unopened
Up to 1-year shelf-life after opening
#10 can size, about 5x average soup can
Requires no refrigeration
Made in the USA
Directions of Chicken Noodle Soup:
Discard the oxygen absorber packet immediately after opening.
Whisk 1/4 Cup soup mix and 1/4 Cup noodles into 1 1/4 Cups boiling water.
Simmer over low heat for 20 minutes, stirring frequently.
Remove from heat and let stand for 2-3 minutes to thicken before serving.
Add vegetables from your garden chicken from our Chicken Case Pack to enhance.
Ingredients:
Egg noodles (durum flour, eggs, glycerol monostearate, niacin, ferrous sulfate, thiamine mononitrate, riboflavin, folic acid), vegetarian chicken base (maltodextrin, hydrolyzed corn protein, salt, cornstarch, sugar, onion and garlic powder, spices [including parsley], extractives of turmeric, silicon dioxide), maltodextrin, carrots, modified food starch, chopped onions, celery, peas, spices, xanthan gum and parsley.
Allergen Alert: This product contains eggs and wheat.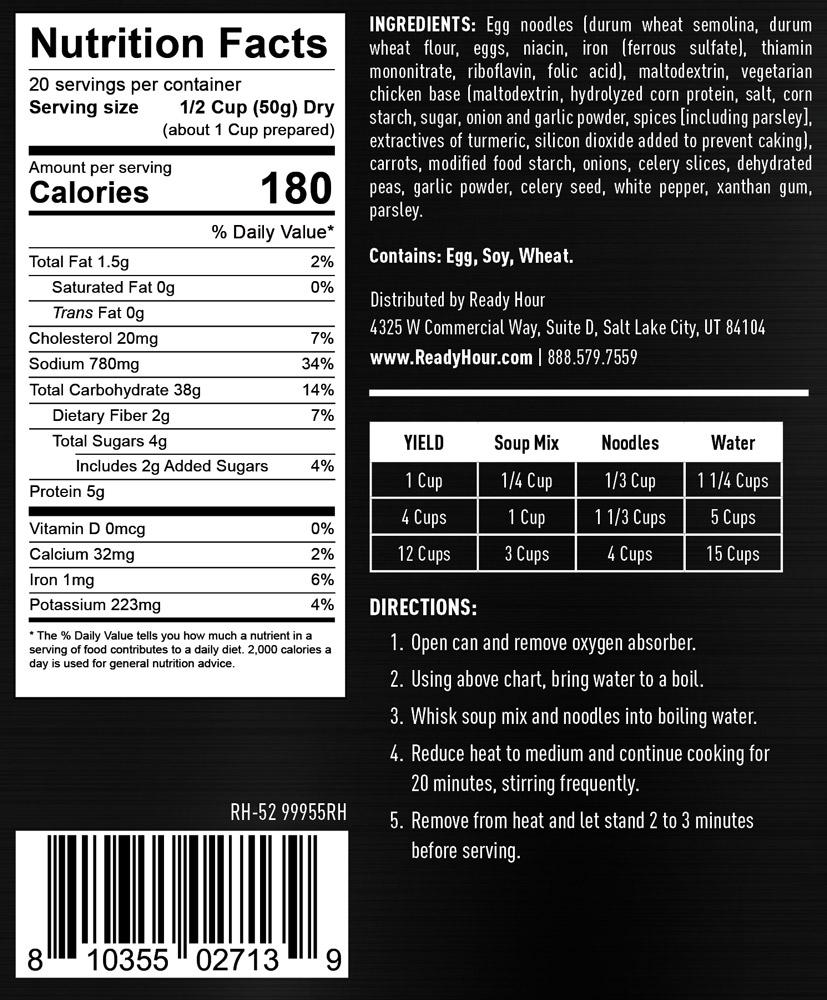 This soup stores best when in a cool and dry location at temperatures between 55°F and 70°F. Actual shelf life may vary based on individual storage conditions.
Chicken Flavored Noodle Soup (20 Servings) Canada