Sale!
Orange Energy Drink Mix Case Pack (56 Servings, 7 PK.)
IN STOCK! Place Your Order Now!
WE MUST BE READY TO FACE ANY EVENT
A growing population and rapid weather changes are causing issues with the food supply all over the country. While there have been reports about the food shortages and a simultaneous rise in the cost of many products, many people are unable to recognize this looming crisis. Much of this comes from the continued easy access to food that we enjoy, but that does not negate the dwindling of our resources.
Because of this, we must always be prepared and ready. Ready Hour was created with you in mind. Protecting your family from a crisis by planning ahead and creating a food emergency storage plan is the best thing you can do for them. We know you need energy and plenty of vitamins to sustain energy during a crisis situation.
Ready Hour Orange Energy Drink is packed with vitamins A, C, and D. Perfect drink when you are in a crisis and need a nutritional drink. Ready Hour Orange Energy Drink Mix lasts up to 30 years unopened, and one year once you open the can. Store it in a cool, dry location where temperatures stay between 55 and 75 degrees for optimal longevity.
Ready hour packages are sealed in heavy-duty packaging, and are resealable. That way you can use what you want and store up the rest. Once you've opened a package it is good for up to a year. Case packs make throwing a bag of your favorite Ready Hour foods into your camping gear, RV, or take with you hiking. They are perfect for storing up for an emergency, just make sure you keep it in a rodent proof (preferably metal) container for long term storage.
Total water needed to make entire case pack is 3.5 gallons

Compare
Orange Energy Drink Mix Case Pack (56 Servings, 7 PK.)
A Refreshing Treat That Kids & Adults Love!
Full of Nutrients and Electrolytes.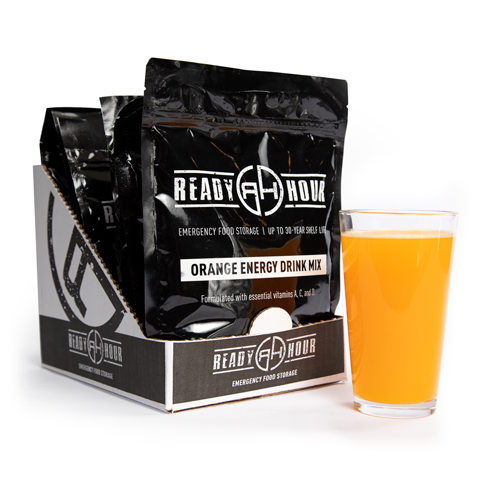 Ready Hour by My Patriot Supply case packs allow you to buy in large quantities, without wasting what you don't use right away! These cases come with seven pouches of drink. This helps you maintain the shelf-life of your drink until you're ready to prepare it.
With our Orange Energy Drink Mix on hand, your household always has delicious hydration on demand. Our yummy citrus mix gives you a shot of vitamins A, C and D – all essential to healthy functioning. Drinking a regular glass of this mix will help boost immunity, keep bones strong and give you the energy to push through tough situations.
Our Orange Energy Drink Mix case packs let you choose how much you want to use from an individual pouch, without having to rush through the rest of the case.
Ready Hour Orange Energy Drink provides a burst of energy and a tasty treat when you need it the most. That's why it's good to have a large quantity on hand – especially for the kids. Buy it in our bulk case packs for daily use – like at little league sports games. Be sure to also keep extra cases for your emergency survival food supply.
The Orange Energy Drink Mix Case Pack boxes are 7 1/2 x 7 1/2 x 9 inches. NET WT. 11.57 oz (328g) per pouch, for total combined weight of 80.99 oz (2296g).
Benefits: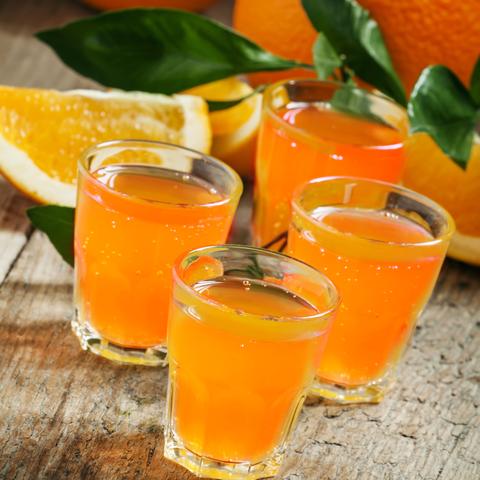 Bulk cases with multiple pouches
Ultimate in convenience and choice
Easy to Prepare
Balanced Nutrition
Ideal for off-grid use
Up to 25-year shelf-life unopened
Up to 1-year shelf-life after opening
Includes 7 pouches
8 Servings per pouch
Requires no refrigeration
Gluten free
Made in the USA
Directions:
Discard the oxygen absorber packet immediately after opening.
Stir the drink mix before using.
Add the correct amount of water to drink mix.
Stir and serve over ice.
Ingredients:
Sugar, citric acid, sweet dairy whey, natural and artificial flavors, sodium citrate, ascorbic acid, vitamin A, vitamin D, FD&C Yellow #6, FD&C Red #40
Allergen Alert: This product contains dairy.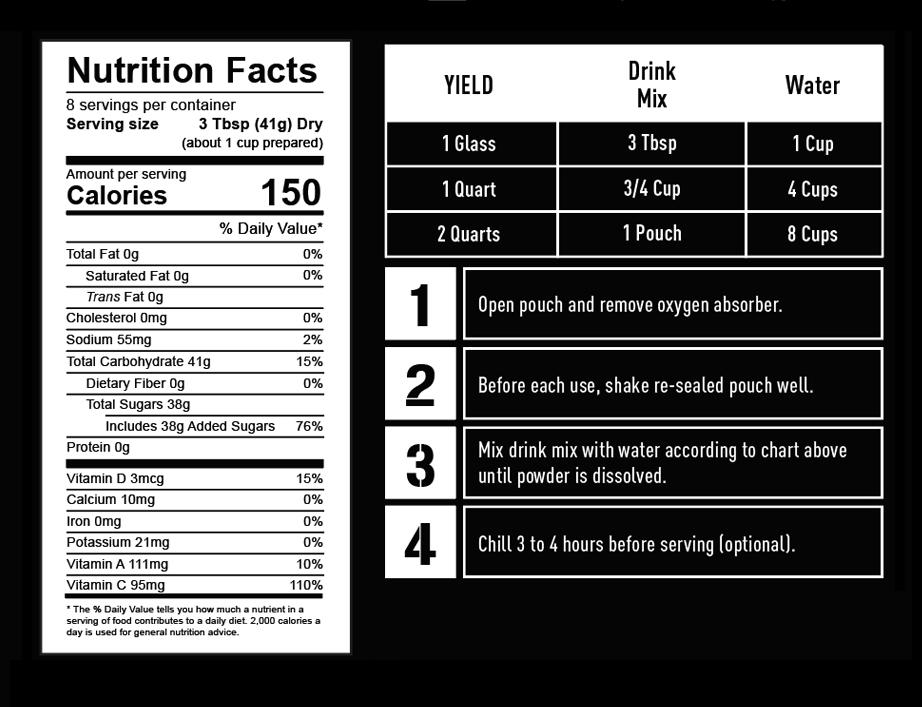 It's best to store this emergency food in a dry, cool location — a dark area, if possible, at temperatures between 55°F and 70°F. Actual shelf life may vary based on individual storage conditions.
Orange Energy Drink Mix Case Pack (56 Servings, 7 PK.) Canada