Maple Grove Oatmeal Case Pack (48 Servings, 6 PK.)
What Loggers Crave Before a Day in the Field…
This dish nourishes you in a crisis!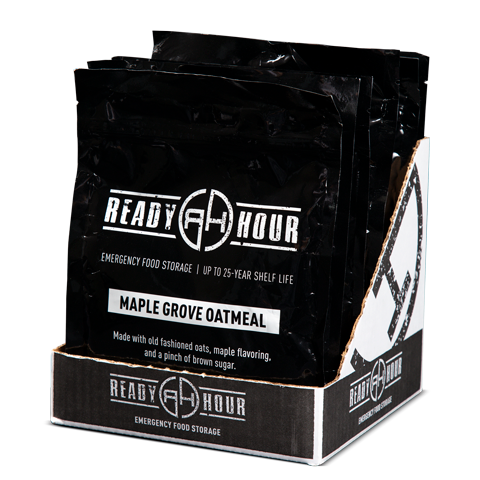 Ready Hour by My Patriot Supply case packs allow you to buy in large quantities, without wasting what you don't use right away! These cases come with multiple pouches of food. This helps you maintain the shelf-life of your food until you're ready to cook it.
This hearty and sweet breakfast is the true lumberjack's way of getting going. Our Maple Grove Oatmeal will help you swing through your day. Whether your crew is weathering a crisis or just having a hard time getting started in the morning, our Maple Grove Oatmeal case packs give you a go-to breakfast that's ready in 10 minutes.
Maple Grove Oatmeal is a classic breakfast that you'll want to buy in bulk over and over again. Serve it solo or add fresh fruit for a meal that will get your family up and moving every morning. Keep an extra case or two in your emergency food supply, and you'll have the makings for a hot meal even in a crisis.
The Maple Grove Oatmeal Case Pack boxes are 9 x 7 1/2 x 9 inches. NET WT. 16.37 oz (464g) per pouch, for total combined weight of 98.22 oz (2784g).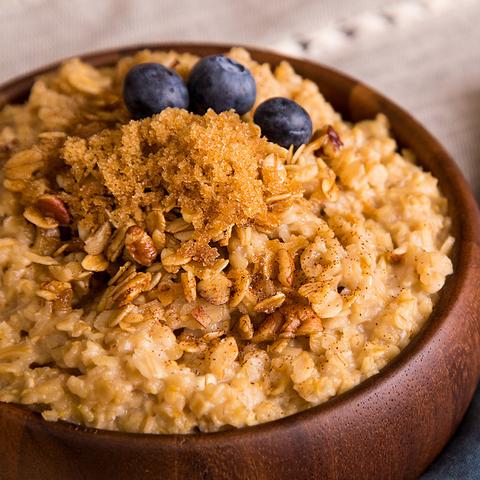 Benefits:
Bulk cases with multiple pouches
Ultimate in convenience and choice
Hot and hearty
Ideal for off-grid use
Up to 25-year shelf-life unopened
Up to 1-year shelf-life after opening
Includes 6 pouches
8 Servings per pouch
Requires no refrigeration
Made in the USA
Directions:
Open pouch and remove oxygen absorber.
Bring 1 cup of water to a boil.
Stir in 1/2 cup of oatmeal.
Cook 1 minute, stirring occasionally.
Remove from heat and let stand 1 minute before serving.
Ingredients:
100% natural rolled oats, sugar, creamer (partially hydrogenated coconut oil, corn syrup solids, sodium caseinate, dipotassium, mono and diglycerides, silicon dioxide, soy lecithin), maple flavor (natural & artificial), brown sugar, salt.
Allergen Alert: This product contains milk and soy.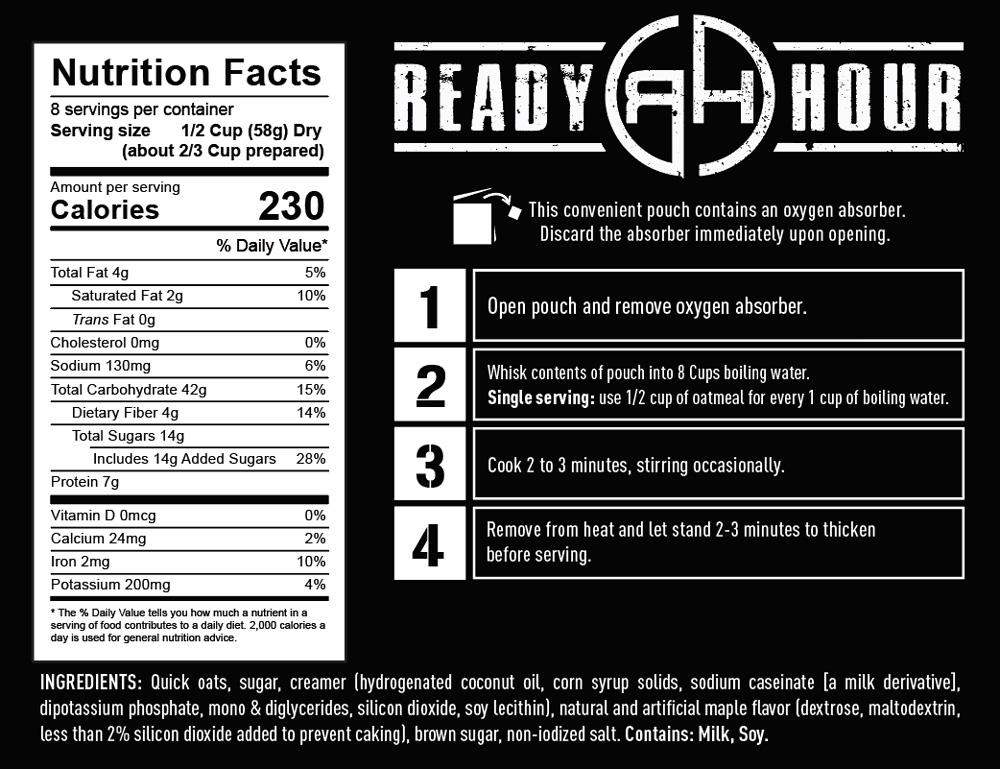 It's best to store this emergency food in a dry, cool location — a dark area, if possible, at temperatures between 55°F and 70°F. Actual shelf life may vary based on individual storage conditions.
Maple Grove Oatmeal Case Pack (48 Servings, 6 PK.) Canada