Sale!
Honey Wheat Bread Mix (36 Servings)
IN STOCK! Place Your Order Now!
COMFORT WITH TASTE
What would you eat if you were stranded without power? It could happen; it does happen. A natural disaster, a breakdown in the delivery system, or a terrorist strike against the infrastructure could leave you without power.
Bread is a comfort food during any crisis.  No waste here with our #10 Cans.  Ready Hour Honey Wheat Bread is handy when you want to make sandwiches and have no way of getting to a grocery store. Goes great with breakfast, lunch, dinner, and even good for a snack in between. This customer favorite can be used for making dinner rolls or campsite carbs easily.
Ready Hour Products require no refrigeration. This is vital when the grid is down. Our #10 cans are made of steel, waterproof and pest proof, and stores easily on a shelf or in a closet. Store it in a cool, dry location where temperatures stay between 55 and 75 degrees for optimal longevity.

Compare
Honey Wheat Bread Mix (36 Servings)
If you love the warm goodness and delicious scent of freshly baked bread, you will love our time saving Ready Hour by My Patriot Supply Honey Wheat Bread Mix. This complete, whole-grain bread mix is already prepared. All you add is water, oil and yeast.
Use your bread machine to save even more time and fuss, or enjoy making your own artisan loaves and rolls by hand. Great for everyday use, our Honey Wheat Bread Mix is especially handy in an emergency when the grocery store shelves are bare. Be sure to keep some cans in your survival food supply and your family will not have to go without delicious, life-sustaining bread. This item comes in a big #10 can size, about five times the size of a normal soup can.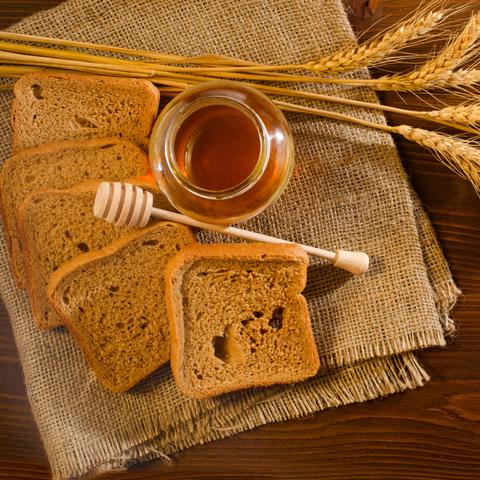 Honey Wheat Bread Benefits:
Ultimate convenience
Easy to prepare
Great for recipes
Ideal for oven or bread machine
Up to 10-year shelf-life unopened
Up to 1-year shelf-life after opening
#10 can size, about 9x average soup can
Requires no refrigeration
Just add water, oil and yeast
Made in the USA
Directions for Honey Wheat Bread:
Discard the oxygen absorber packet immediately after opening.
Dissolve the yeast in the warm water.
Add the oil and Ready Hour Honey Wheat Bread Mix and stir to blend.
Knead the dough on a floured board until it is smooth and elastic, or about 10 minutes. If you are using a mixer with a dough hook, mix on medium low speed for 10-20 minutes.
Place the dough in a large bowl and let it rest for 15 minutes.
Form the dough into loaf shapes according to the number you are making or form it into 1 to 2-inch balls for dinner rolls.
Place dough into bread pans or baking sheets coated with nonstick cooking spray.
Preheat oven to 400 degrees F.
Bake loaves for 20-25 minutes until golden brown. For rolls, bake for 12-15 minutes. After cooling for 5-10 minutes, remove the bread to wire racks to complete cooling. Brush warm bread with melted butter if you like.
Ingredients:
Unbleached flour (wheat flour, malted barley flour, niacin, iron, thiamine mononitrate, riboflavin, folic acid), whole wheat flour, wheat bran, brown sugar, vital wheat gluten, salt, sugar, soybean oil, nonfat dry milk, honey powder (refinery syrup, honey), dough enhancer (bleached wheat flour, malted barley flour, niacin, iron, ascorbic acid, thiamine mononitrate, riboflavin, folic acid), whole eggs (whole eggs, sodium silicoaluminate [as an anticaking agent]), lecithin powder (liquid lecithin, defatted soy flour).
Tips:
You are finished kneading when a tablespoon of dough forms a paper thin sheet if you stretch it.
If the dough becomes dry or stiff as you knead it, add a little water.
You can tell bread is done baking by tapping on the bottom; it should sound hollow.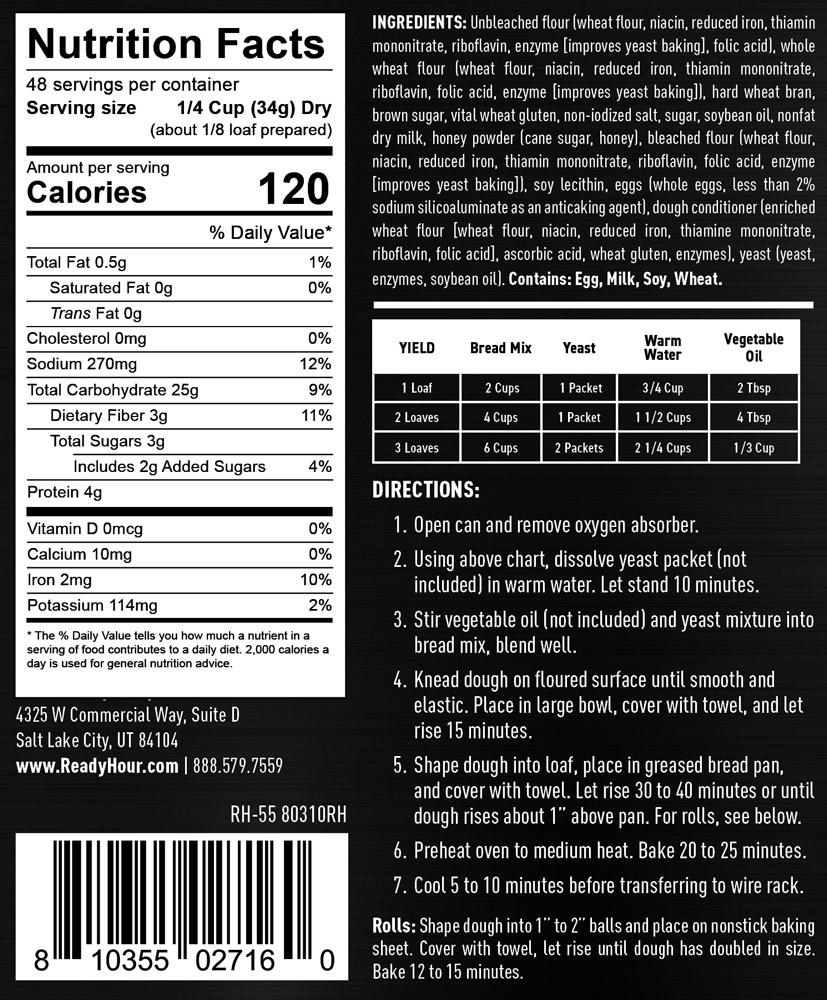 It's best to store this emergency food in a dry, cool location — a dark area, if possible, at temperatures between 55°F and 70°F. Actual shelf life may vary based on individual storage conditions.
Honey Wheat Bread Mix (36 Servings) Canada