Buttermilk Pancake Mix Case Pack (50 Servings, 5 PK.)
Part of a Complete Emergency Breakfast

Keeps Your Crew Going When You Need a Boost!
Ready Hour by My Patriot Supply case packs allow you to buy in large quantities, without wasting what you don't use right away! These cases come with multiple pouches of food. This helps you maintain the shelf-life of your food until you're ready to cook it.
Ready Hour Buttermilk Pancake Mix is so simple to use and so versatile that you'll want to keep an ample supply on hand. It's one of the best things to get you going, even under the demands of a crisis. Just add water to make some of the best pancakes your family has ever tasted. Even kids can make great breakfasts with a little help from a grown-up. When you buy our Buttermilk Pancake mix case packs in bulk there's no waste with multiple pouches included. Just use what you need.
Plus, you can work this pancake mix into all sorts of recipes – from fried chicken to baked desserts. This mix makes all of your kitchen projects quicker and easier. Keep a case in your larder for everyday use. But don't forget to buy a case pack for your survival food kit. Everyone will love eating this delicious, comforting yet convenient food in an emergency.
The Buttermilk Pancake Mix Case Pack boxes are 9 x 7 1/2 x 9 inches. NET WT. 1 pound per pouch, for total combined weight of 5.25 pounds.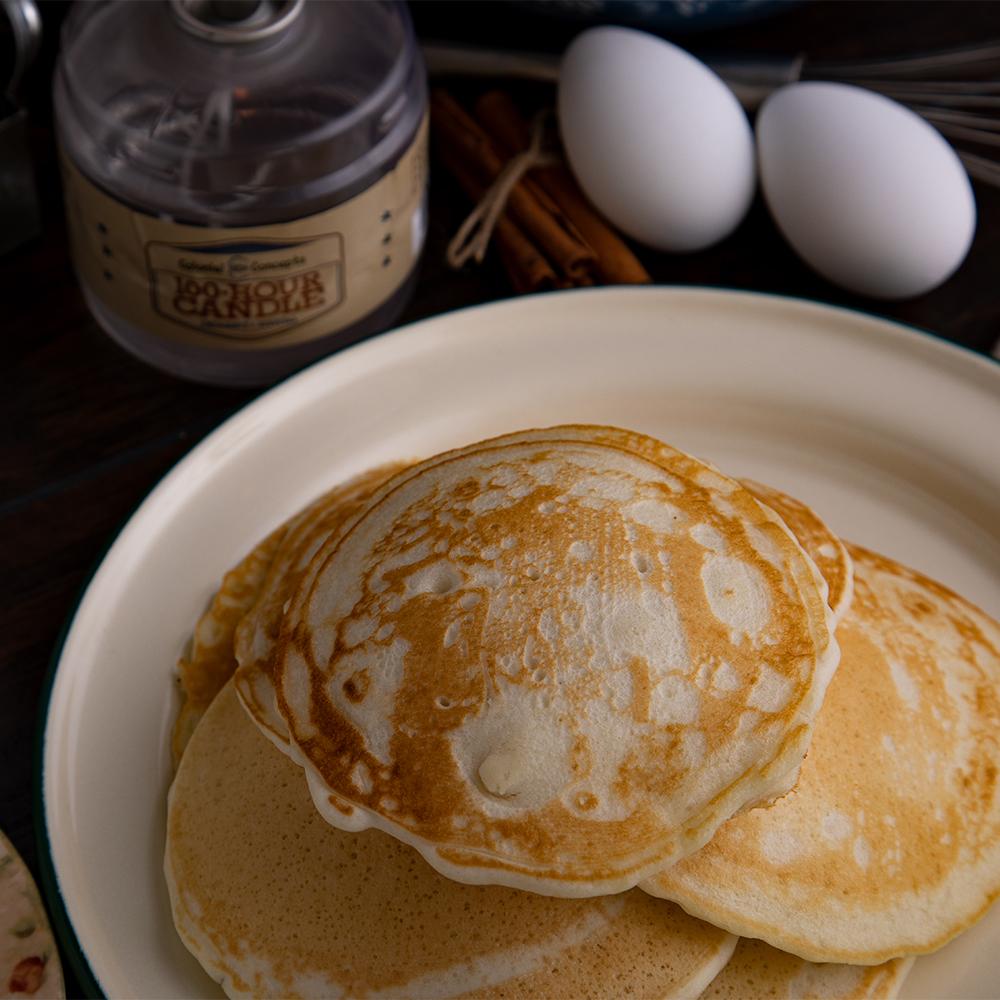 Buttermilk Pancake Mix Benefits:
Bulk cases with multiple pouches
Ultimate in convenience and choice
Easy to Prepare
Balanced Nutrition
Ideal for off-grid use
Up to 30-year shelf-life unopened
Up to 1-year shelf-life after opening
Includes 5 pouches
10 servings per pouch
Requires no refrigeration
Made in the USA
Directions for Buttermilk Pancakes:
Discard the oxygen absorber packet immediately after opening.
Add mix to cold water.
Stir only until the mix is moistened (add water for desired consistency).
Cook on preheated skillet on medium heat.
Pour batter on griddle forming 9-inch rounds.
Cook about 90 seconds per side or until brown.
Ingredients:
Cake flour (wheat flour, niacin, reduced iron, thiamine mononitrate, riboflavin, folic acid, enzyme), sugar, soybean flour, dextrose, buttermilk powder, baking soda, corn starch, leavening agent (sodium acid pyrophosphate), non-iodized salt, leavening agent (monocalcium phosphate monohydrate), dried eggs (whole eggs, sodium silicoaluminate), soybean oil.
Allergen Alert: This product contains egg, milk and soy
It's best to store this emergency food in a dry, cool location — a dark area, if possible, at temperatures between 55°F and 70°F. Actual shelf life may vary based on individual storage conditions.
Buttermilk Pancake Mix Case Pack (50 Servings, 5 PK.) Canada