Buttermilk Pancake Mix (32 Servings)
Buttermilk Pancake Mix #10 Can
Ready Hour Buttermilk Pancake Mix is so simple to use and so versatile that you'll want to keep an ample supply on hand. Just add water to make some of the best pancakes your family has ever tasted. Or waffles!
Even kids can make great breakfasts with a little help from a grown-up. Work the mix into all sorts of recipes – from fried chicken to baked desserts – to make all of your kitchen projects quicker and easier.
Keep a can in your larder for everyday use and a can in your survival food kit. Everyone will love eating this delicious, comforting yet convenient food in an emergency. This item comes in a big #10 can size, about five times the size of a normal soup can.
Buttermilk Pancakes Benefits:
Ultimate convenience
Easy to prepare
Reliably fluffy and flavorful results
Up to 10-year shelf-life unopened
Up to 1-year shelf-life after opening
#10 can size, about 9x bigger than a standard 10.25 ounce grocery soup can
Requires no refrigeration
Made in the USA
Directions for Buttermilk Pancakes:
Discard the oxygen absorber packet immediately after opening.
Add mix to cold water.
Stir only until the mix is moistened (add water for desired consistency).
Cook on preheated skillet on medium heat.
Pour batter on griddle forming 9-inch rounds.
Cook about 90 seconds per side or until brown.
Ingredients:
Cake flour (wheat flour, niacin, reduced iron, thiamine mononitrate, riboflavin, folic acid, enzyme), sugar, soybean flour, dextrose, buttermilk powder, baking soda, corn starch, leavening agent (sodium acid pyrophosphate), non-iodized salt, leavening agent (monocalcium phosphate monohydrate), dried eggs (whole eggs, sodium silicoaluminate), soybean oil.
Allergen Alert: This product contains wheat, milk, eggs and soy.
For Waffles:
Mix water and pancake mix according to chart above.
Stir in 2 Tbsp melted butter per 4-serving recipe.
Batter will be lumpy; take care not to over-mix.
Pour about 1/2 cup of batter over a nonstick waffle iron, close the lid and cook until it stops steaming.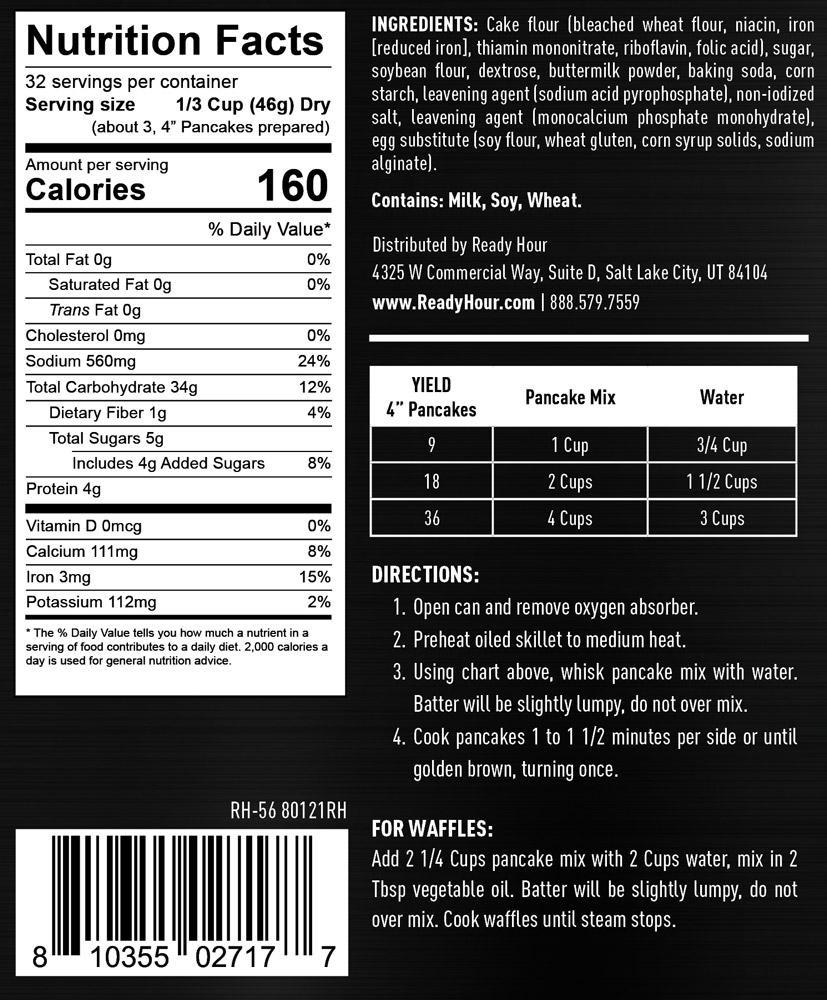 It's best to store this emergency food in a dry, cool location — a dark area, if possible, at temperatures between 55°F and 70°F. Actual shelf life may vary based on individual storage conditions.
Buttermilk Pancake Mix (32 Servings) Canada