Sale!
Banana Chips Case Pack (48 Servings, 6 PK.)
IN STOCK! Place Your Order Now!
WHAT IF?
You had no access to a grocery store, what would you do?
Plan ahead for times when you need an immediate source of energy with our naturally sweetened crispy and fresh banana chips.  Ready Hour Banana Chips are a delicious and nutritious, yet they are light and easy to pack and take with you on the go. They will last up to 10 years unopened, and one year once you open the can. Store it in a cool, dry location where temperatures stay between 55 and 75 degrees for optimal longevity.
Why the Case Pack?
Resealable zipper-top, heavy-duty 4-layer pouches with oxygen absorbers inside to extend shelf life
Storage –  Excellent product for long term storage – Once you've opened a package it is good for up to a year. They are perfect for emergency food storage and are rodent proof.

Compare
Banana Chips Case Pack (48 Servings, 6 PK.)
A perfect snack! Our Banana Chips are for breakfast, hiking or your go bag. Get your favorite emergency survival food in bulk. Ready Hour case packs allow you to buy in large quantities, without wasting what you don't use right away. Each pack lasts up to 10 years unopened. These cases come with six pouches of banana chips. This helps you maintain the shelf-life of your food until you're ready to eat it.
With Ready Hour by My Patriot Supply Banana Chips case packs on your snack shelf, you have a natural treat to offer to hungry family members in place of potato chips and candy. They are sweet and crunchy like junk-food snacks, but Banana Chips are made from real banana slices.
Ready right out of the pouch, they are a convenient power snack for after school, after dinner, in a lunch box or in an emergency. Buy a case for daily use. Plus add a case to your survival food supply. This way you and your loved ones have yummy snacks should a crisis strike.
The Banana Chips Case Pack boxes are 13 x 7 1/2 x 9 inches. NET WT. 6.21 oz (176g) per pouch, for total combined weight of 37.26 oz (1056g)
Banana Chips Benefits: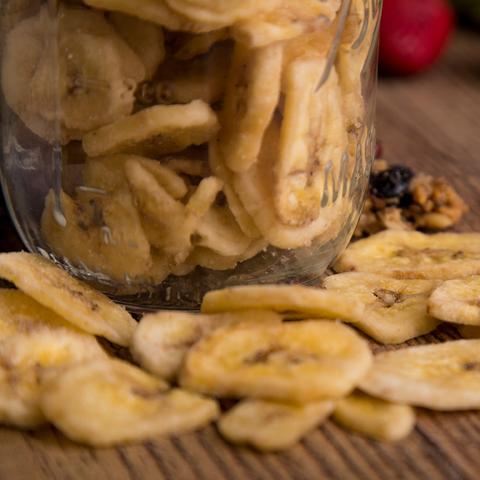 Bulk cases with multiple pouches
Ultimate in convenience and choice
No prep, no guilt
Great for camping trips
Made from real fruit
Up to 10-year shelf-life unopened
Up to 1-year shelf-life after opening
Includes 6 pouches
8 Servings per pouch
Requires no refrigeration
Gluten free
Made in the USA
Directions for Banana Chips:
Discard the oxygen absorber packet immediately after opening.
Product is ready to eat right out of the package.
Ingredients:
Bananas, coconut/vegetable oil, sugar, natural flavoring
Suggested Recipes:
Sprinkle crushed Banana Chips over prepared Ready Hour Chocolate Pudding.
Cut a firm banana into 2-inch chunks and stick a toothpick in each. Dip the banana chunks in melted chocolate and roll them in crushed banana chips. Set on a piece of parchment in the freezer until frozen and enjoy. Delicious with dipped strawberries, too!
Mix Banana Chips with your favorite breakfast granola. Top with nonfat yogurt for a wholesome meal.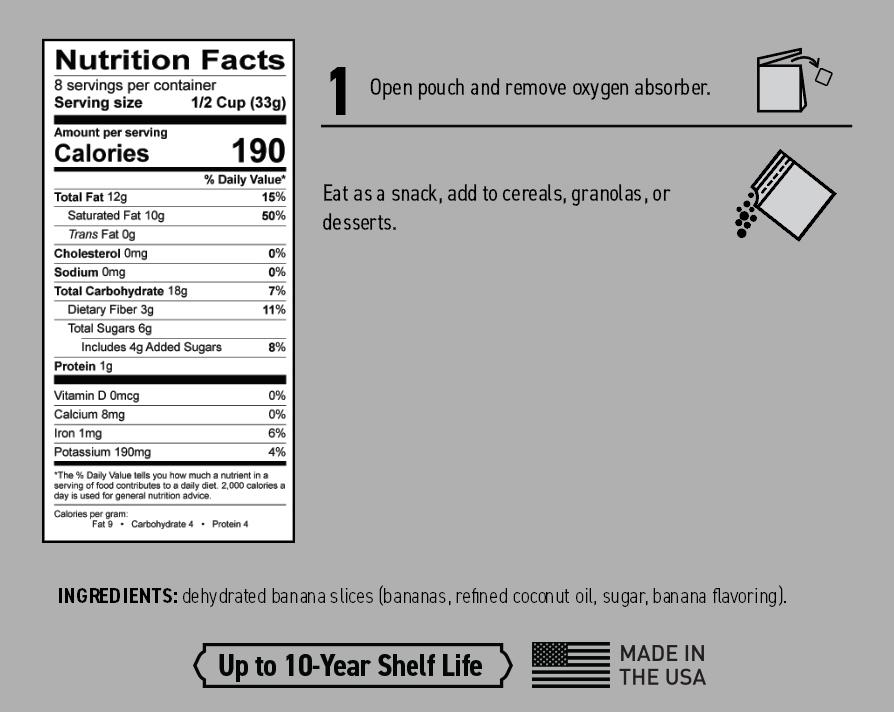 It's best to store this emergency food in a dry, cool location — a dark area, if possible, at temperatures between 55°F and 70°F. Actual shelf life may vary based on individual storage conditions.
Banana Chips Case Pack (48 Servings, 6 PK.) Canada